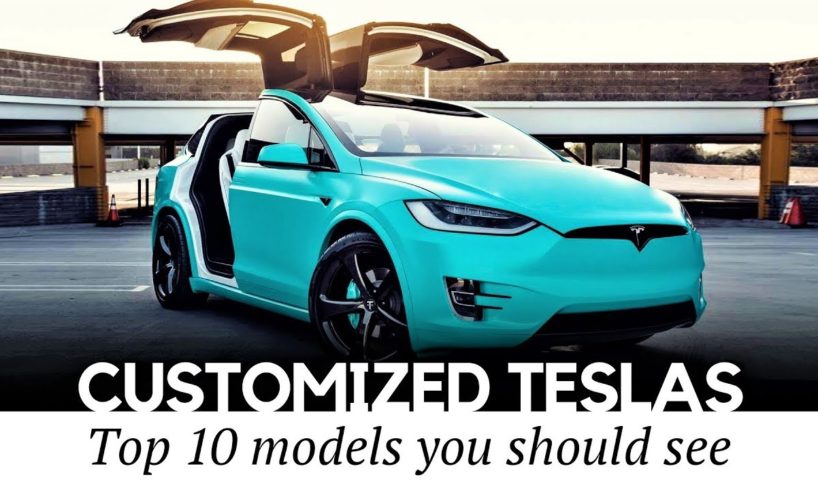 Many people consider Tesla the masterpiece of design and engineering, however, what if we told you there is a way to improve this nearly ideal electric car? To our surprise the amount of tuning shops and body kits for this auto is rather vast and in this episode we collected the most beautifully stunning body kits, paint jobs and interior renovations that turn Tesla cars into true luxury and performance electric vehicles.
Here is the full list of redesigns in the video, enjoy!
00:49 #1 Tesla Shooting Brake RemetzCar: remetzcar.nl/conversions-limited-shootingbrake.php
Welcome to the world the second ever conversion of a Tesla Model S into a station wagon fulfilled by the company from Netherlands called RemetzCar.
01:44 #2 Tesla Model S from Novitec: novitecgroup.com/tesla/en/Model-S/intro.php
Tesla Model S from Novitec presents a sportier more aggressive take on the car's exterior and has improved aerodynamic properties.
02:43 #3 Tesla Model X Desert Mirage: unpluggedperformance.com/model-x
The most beautiful Tesla Model X on today's market it no doubts the Desert Mirage by Unpluged Performance that offers a rich body kit and interior.
03:34 #4 Tesla Model S Lineup by T-Sportline: tsportline.com/pages/model-s-2-0-2016-facelift
T-Sportline is the first ever tuner of Tesla in the world and their most popular make is the Model S conversion, which gets either full or partial remake both inside and out.
04:34 #5 EPCS V2.3 Tesla P100DL: electricgt.co/tesla-debut-news
Tesla Model S is already the fastest car in the world, but it yet has to be tested as a race car on a track. EPCS V2.3 Tesla P100DL will be the very first racing Tesla in the world scheduled to compete in 2019.
05:39 #6 Tesla Model X Lineup by T-Sportline: tsportline.com/pages/model-x
The Californian tuner T-Srpotline manages to perfect and already ideal luxury SUV Tesla Model X with custom interior, beautiful exterior changes and new wheels.
06:41 #7 Tesla Remetzcar Hearse: remetzcar.nl/conversions-funeral-tesla-hearse.php
No matter how big of a fan of Tesla you are, you would like to ride in this model, which was specifically retrofitted into a Hearse to serve as an eco-friendly coffin-carrier.
07:17 #8 Tesla Model 3 Lineup by T-Sportline: tsportline.com/pages/model-3
Drivers of Tesla Model 3 which is expected to become the most numerous EV on the roads are expected to want to stand out and that why they address T-Sportsline for their customization needs.
08:28 #9 Tesla Model S RevoZport: revozport.com/tesla/index.html
RevoZport is a Chinese startup company that builds bodykits for the most iconic models by the world's biggest auto manufacturers, including BMW, Mercedes, VW, McLaren, and Porsche. Since 2014, the company turned its attention to the EV market and launched 2 kit options for Tesla Model S, 1 for Model X.
09:23 #10 Tesla Model S 0-60 Designs: zeroto60designs.com
Tesla Model S by 0-60 Designs is a custom aftermarket modification that emphasizes the car's outstanding performance and has a sportier, fresher look.
10:23 #11 Tesla Model S for Kids: tesla.radioflyer.com/build.html
Even kids these days get to drive Teslas and the best model for them to buy is the one from Radio Flyer. This one seater is perfect for having fun and upbringing a future fan of electric vehicles.
AUTOMOTIVE TERRITORY
Follow us:
YouTube: https://www.youtube.com/channel/UCu05qdj67VEs4n0qSLF-80w
Facebook: https://www.facebook.com/automotiveterritory
Instagram: https://www.instagram.com/automotiveterritory
Twitter: https://twitter.com/knowterritory
Watch more interesting episodes on our channel:
10 Groundbreaking Electric Cars by Arising Tesla Rivals

10 New Electric Cars that Want to be Better than Tesla

TOP 10 Custom Teslas: Electric Cars with Best Exterior and Interior Tuning
#AutomotiveTerritory #ATelectriccars #ATev

source