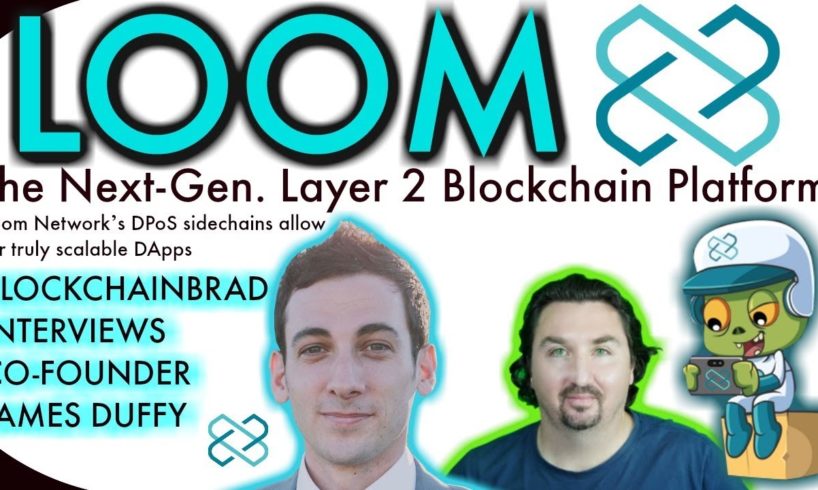 BlockchainBrad chats with James Duffy, co-founder of the Loom Network. Why? stay tuned. But what's Loom? Fundamentally, the Loom Network is a live Layer 2 scaling solution for Ethereum. It is a network consisting of a PlasmaChain & DPoS sidechains, which allows for highly-scalable games and user-facing DApps ( e.g. the first 100% decentralized blockchain game: Zombie Battleground), while still being backed by the proven security of Ethereum. Slated as 'the next-generation blockchain application platform for Ethereum', Loom's DPoS sidechains allow for EOS- like scalability without the problem of centralization.
Want more info?… ok.
Loom Network is a Platform as a Service built on top of Ethereum that allows developers to run large-scale decentralized apps. This lets developers build DApps with the trust and security of the world's most secure public blockchain, along with the computing resources necessary to run commercial-scale services. Like how Filecoin tokenized disk space, Loom aims to be the tokenized application protocol of the new decentralized web.
Features:
Backed by Ethereum
Loom built the world's first Plasma Cash implementation, which allows Ethereum-based tokens to be used on Loom sidechains with the full security guarantees of Ethereum.
Highly Scalable Sidechains
Dubbed "EOS on Ethereum", Loom's DPoS sidechains provide the same high scalability and throughput promised by alternative platforms like EOS, while still being fully Ethereum-compatible and secure.
Live in production
Loom Network has been live in production since March 2018. Developers, start building on Loom today.
Disclaimers: This was 100% FREE. This video was done free of charge and there was not exchange of tokens or deal of any kind. I did this because I think gaming is one of the REAL first use cases for blockchain in mass adoption scenarios.
Investment disclaimer: I have not yet invested in Loom. Yet.
Cheers,
Brad.

source