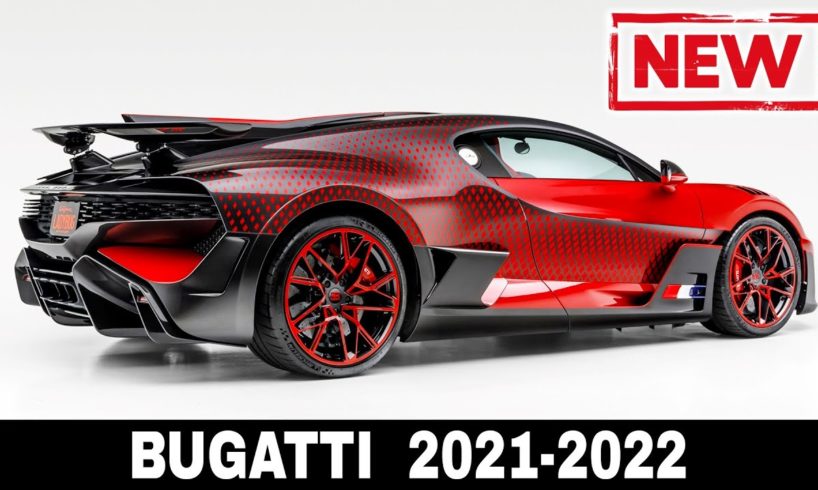 On average a typical Bugatti owner already has two models in his garage with one more on the way. This unwavering loyalty to the brand allows the French automaker to sell out multimillion hypercars like hotcakes, often without making too many radical changes. In today's episode we will cover All-New Bugattis, fresh limited editions and news about the final deliveries of the most expensive autos ever built!
Subscribe to #AutomotiveTerritoryDailyNews and ring the bell to keep your finger on the pulse of the car world! let's start the engines!
#1 2022 Bugatti Chiron Super Sport
Despite similar naming, this model should not be confused with the 2020 Super Sport 300+ that reported to attain 300 mph speeds. All-new for 2022, the Bugatti Chiron Super Sport builds on the Chiron platform but focuses on improving aerodynamics and performance.
#2 2021 Bugatti Bolide
The radical Bolide was born as a race-focused supercar built around Bugatti's 8L W16. Here, the mill is fitted with new quad turbochargers that boost its output from standard 1500 horses to 1850 at 7000rpm.
#3 2021 Bugatti Divo and Divo Lady Bug
Sold out even before its official unveiling to the public in August 2018, the 40-unit Divo hypercar is finally being delivered to the customers. Powered the usual 8-liter W16, here with 1600horses, each is hand-built Molsheim and is customized according to the customer's preference.
#4 2022 Bugatti Chiron Sport Les Legendes du Ciel and Alice
This year, the story of the 2018 Chiron Sport continues with a limited edition model and one of a kind custom project. The first, Les Legendes du Ciel aka the Legends of the Sky pays tribute to the French aircraft engineering, while the Alice one-off is specially designed as a husband's gift to his wife.
#5 2021 Bugatti La Voiture Noire
Until the 2021 reveal of the 3 specially built Rolls Royce Boat Tails, the one and only Bugatti La Voiture Noire held the title of the most expensive new car in the world, priced at over 13 million dollars.
#6 2021 Bugatti Chiron by Hermès
Ordered back in 2015 and finally delivered in 2021, this is a custom-tailored version of the Chiron that was created in cooperation with Hermes for the US real estate empire owner, Manny Khoshbin.
#7 2021 Bugatti Centodieci
Bugatti continues to prepare the roll out of the 10-unit exclusive Centrodieci hypercar: The assembly of the series development prototype started in February 2021, and this June, Bugatti announced testing of the model at the Nürburgring Nordschleife.
#8 2021 Bugatti Chiron Pur Sport
Focused on handling and driving dynamics, the 2021 Bugatti Chiron Pur Sport does not look that much different from the original, but manages to impress on the road.
#9 2021 Bugatti Baby II
While the full-size Bugatti supercars are typically ordered as toys for adult boys and girls, this specific model is an actual kid's car. Labeled as the Baby II, it harkens back to the original Type 52 Baby that was built by Ettore Bugatti for his 4-year-old son.

source