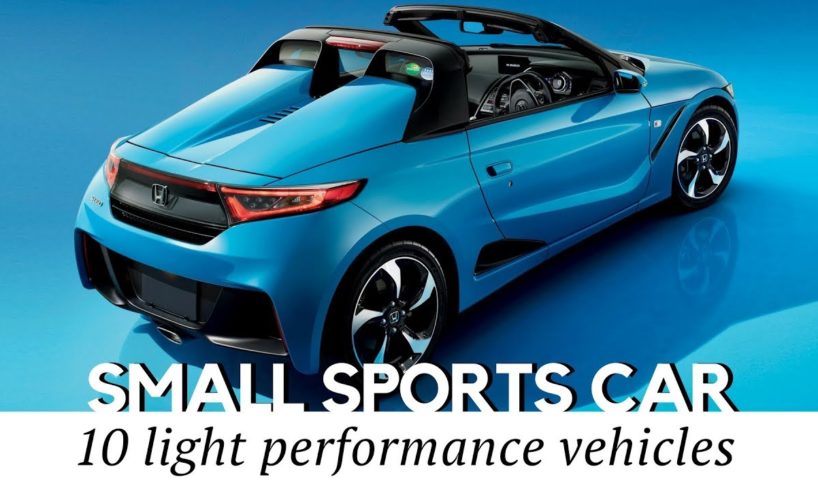 10 Smallest Sports Cars You Will Have Fun Driving in 2018
It is not always that people need big cars to satisfy their driving needs, after all not all of the drivers have a crowd of kids and groceries to drive around.
Some of automotive enthusiasts need performance from their cars, that is meticulously packed into a small body for the highest level of agility, power, acceleration and chest squeezing turns. This is where small sports cars come into play.
They possess just the right ingredients to satisfy a thrill hungry rider, while remaining affordable, compared to the level of performance and fun one can extract from under the hood.
Cars featured in this video:
Volkswagen Up! GTI: www.volkswagen-media-services.com/en/modelle/-/search/Modelle-Serienmodelle-up-Foto/search/81188_81260_82476_80904
The charged Up! comes in, bringing to the table a three cylinder turborcharged 1 Liter TSI with increased output of 115 horses and 148 lb-ft of torque.
Honda S660: honda.co.jp/S660
If you think that Type R is the most interesting and hottest automobile manufactured by Honda these days, you probably haven't seen the baby roadster S660.
Suzuki Swift Sport: globalsuzuki.com/automobile/lineup/swift/index.html
The third generation of Swift Sport is lighter, faster and more dynamic than its predecessors. It made its debut by the end of 2017 and the vital specifications suggest that it has got a claim to rival Ford Fiesta ST.
Audi TT RS – $60,000: audi.co.uk/new-cars/tt/tt-rs-coupe-and-roadster.html
The most significant upgrade that was received by Audi TT for the 2018 model year is the new reworked 2.5 Liter turbocharged and intercooled DOHC 20-valve inline-5 engine connected to a 7-speed dual-clutch automatic.
Alpha Romeo 4C Coupe: www.alfaromeousa.com/cars/alfa-romeo-4c-coupe
2018 Alfa Romeo Coupe 4C is a less than 2500 lbs beauty with a 237 hp all-aluminum turbocharged 4-cylinder engine and a top speed of 160 mph. It is priced at $55,900.
Nissan 370 Z: nissannews.com/en-US/nissan/usa/releases/2018-nissan-370z-heritage-edition-previewed-at-new-york-international-auto-show
This spring, to the delight of Nissan's most devoted customers and to honor the 50th anniversary of Nissan Z model, the company released a limited series 2018 Nissan 370Z Heritage Edition.
Porsche 718 Boxter: www.porsche.com/pap/models/718/718-boxster-models/718-boxster-s/
2018 Porsche 718 Boxter is a 300 hp convertible 2 seater. Its 0 to 60 acceleration is 4.9 seconds, and it costs $57,400 for a base model.
Subaru BRZ: subaru.com/vehicles/brz/index.html
This automobile was built by Subaru jointly with Toyota and is considered a close relative of the 86 model. However, as admitted by many experts it successfully separates itself from the sibling by offering better performance, stylish interior and a rich list of available add-ons.
Ford Fiesta ST: ford.co.uk/cars/new-fiesta
Ford Fiesta ST is a hot hatch of new generation. The major update is that this model changed the traditional four-cylinder 1.6 Liter to 3 cylinder 1.5-Liter Ecoboost.
Alpine a110: media.renault.com/global/en-gb/alpine/mediacentre/pressreleases.aspx
This compact French sports car was brought back to life by the efforts of Renault-Nissan alliance. Its aluminum body is just 13 feet in length and the engineers managed to keep the weight of the car at 2380 pounds.
Mini Cooper Works GP: https://www.mini.co.uk/en_GB/home/Concept/mini-john-cooper-works-gp-concept.html
If there are still people who call the Mini cute and not cool enough, we invite you to take a look at the most recent John Cooper Works GP Concept.

source