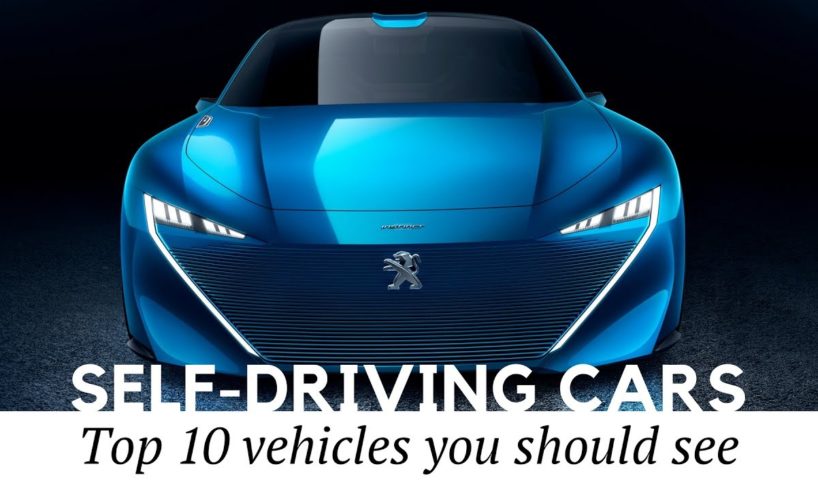 With today's advancements in autopilot technology it is hard to imagine that in the future there will be cars without self-driving capabilities, chances are that they will be even banned from the roads. Check out our list of the top 10 upcoming fully autonomous vehicles. Enjoy the ride.
Chrysler Portal: media.fcanorthamerica.com/newsrelease.do?id=18064&mid=&searchresult
Fiat Chrysler Portal is a vehicle that was designed to become an extension of one's living space. The Portal's modular interior allows seats to be easily removed or added and can be transformed into a mobile office or a play room.
Nio Eve: www.nio.io/visioncar
The EVE is a spacious 5 seats pure electric vehicle that could be categorized as a minivan, it has wide sliding doors that provide access to a lounge like cabin that will most likely remind you of the private jets interior with fully reclining seats and leather finishing.
Toyota Concept-i: www.toyota.com/concept-i/
The car is an eye-catcher: scissor doors, futuristic streamlined body, wheel covers, accent lightning, and interactive interface design.
Toyota Concept-i has built in artificial intelligence called "Yui" that is able to learn, assess different situations, and interact with a driver like "a best friend." The car is also equipped with biometric sensors that will help "Yui" evaluate driver's condition and take over control when needed.
Mercedes Benz Urban eTruck: www.mercedes-benz.com/en/mercedes-benz/innovation/the-long-haul-truck-of-the-future/
Meet the Mercedes-Benz Urban eTruck, a high-tech means of transportation that is tasked to transform the world of commercial vehicles and set a trend for the years to come.
To perform highly demanding transportation duties, this Mercedes will be equipped with a massive 212 KWh battery pack to juice up two electric motors with the combined output of 340 horsepower and 737 pound feet of torque.
BMW i NEXT: www.next100.bmw/en/topics/bmw-vision-next-100.html
BMW presented their Next 100 concept as a part of the vehicles of the future line up to commemorate its 100th anniversary. Even though German engineers cautiously predict that this is how our cars will look in 100 years, but with today's rate of progress, we can expect that BMW's similar to the NEXT will be on the road within the next decade.
Peugeot Instinct: www.peugeot.co.uk/concept-cars/peugeot-instinct/
This car from Peugeot is a conceptual four seat fully-autonomous sedan. The Instinct received a plugin hybrid powertrain with approximately 300 hp output and four modes of driving – two for manual handling and 2 for autopilot. In Drive Boost and Drive Relax the car is set for the most dynamic or comfortable ride.
Rinspeed Oasis: www.rinspeed.eu/techdata_Oasis_31.html
This car from the Swiss Company Rinspeed was presented to the public for the first time at the CES 2017 in Las Vegas. The brain module of Oasis is a cloud connected electronic assistant that can perform a wide array of unconventional for regular autos tasks. For example, it can place a reservation at the restaurant or take a selfie of the driver and post it to Instagram.
Mercedes-Benz F 015: www.mercedes-benz.com/en/mercedes-benz/innovation/research-vehicle-f-015-luxury-in-motion/
F-015 is a 100% emission free Plug in hybrid vehicle that runs on hydrogen when its large battery runs out of charge. The lithium ion battery has 29 kwh capacity that will ensure 125 miles of pure electric range and 12 pounds of hydrogen in the tank will extend the range by another 560 miles.
Rolls-Royce Vision Next 100: www.press.rolls-roycemotorcars.com/rolls-royce-motor-cars-pressclub
This electric car concept was created for the most powerful and richest people of this world. For this very reason the passenger seat where the owner of this automobile will sit is appropriately called the Throne. The length of this car is 20 feet, but surprisingly it will accommodate only 2 people, for the utmost luxury and comfort of course.
Volkswagen Sedric: www.volkswagen-media-services.com/en/modelle/-/search/Modelle-Studien-SEDRIC/search/81188_81800_4669195
The name of this driverless taxi is derived from the term self-driving car. Sedrik can accommodate up to four people that will be facing each other in the cabin sitting on comfortable sofa seats. The driver's seat was not designed and only fully autonomous driving mode is planned for this van.
The Roborace / Robocar: roborace.com/
This is the world's first driverless electric racing car that was designed by Daniel Simon, who is known for his work on Hollywood projects like Tron and Captain America. It has 4 motors that produce 300 kW each, and are powered by 540kW battery, that ensures 625 miles range. The car is predominantly made of carbon fiber and will be capable of speeds over 200 mph.

source