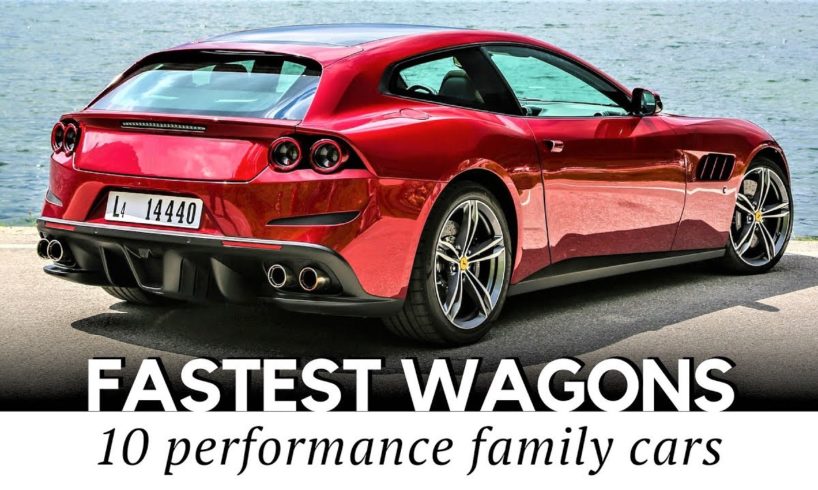 Just because you need a little bit more room for your family and extra luggage, it doesn't mean that your options have to be limited to an awkward SUV or a minivan. Why not look into the almost forgotten class of station wagons AKA estate cars and the newly emerging class of shooting breaks which are basically are mixture of a coupe and a wagon?
They represent a unique combination of plentiful cargo space, incredible speed and acceleration parameters. Today we will show you the most capable and fastest models that can easily challenge some dedicated sports cars while still offering unmatched practicality.
Cars featured in this video:
Cadillac CTS-V Wagon: www.cadillac.com
Cadillac CTS-V Wagon is a dramatic combination of business class comfort, family car roominess, and sport performance. It was released during 2011-2014 model years.
Panamera Turbo S E-Hybrid: porsche.com/international/models/panamera/panamera-e-hybrid-models/panamera-turbo-s-e-hybrid
Porsche's push to electrification of its cars has resulted in addition of hybridized models to the current line ups. Combined it gives to Porsche Panamera Turbo S 680 horses, 626 lb-ft of torque and the all-wheel drive capability.
Mercedes AMG E63 S:.mbusa.com/mercedes/vehicles/model/class-E/model-E63S4S
Mercedes AMG E63 S doesn't care whether anyone would need a 600 horsepower station wagon. The major reason being, that very few people have $100,000 to spend on a car, and among those who do, there definitely will be some hardcore wagon admirers.
BMW Alpina B5 Bi-Turbo Touring: www.alpina-automobiles.com/en/models/b5-biturbo/highlights/
New generation of BMW Alpina B5 Bi-Turbo Touring retains all of the features cherished by its fan and more a supercharged 608 hp engine, luxurious interior, and lots of trunk space.
Audi RS4 Avant: www.audi.co.uk/new-cars/a4/rs4-avant.html
2018 Audi RS4 Avant is a roomy wagon with over the top sports car performance that will not be sold in the USA.
Audi RS6: www.audi.com/en/models/rs-r8/rs-6-avant.html
Audi RS6 is a good-looking family-sized and styled wagon first released in 2002.
Volvo V60: www.volvocars.com/intl/cars/new-models/v60
New Volvo V60 Polestar is a safe and practical sport wagon that has a 362 hp in-line four under the hood and delivers more engaging driving experience.
Jaguar XF S Sportbrake:.jaguarusa.com/all-models/xf/sportbrake/index.html
If you ever wondered what British car Agent 007 would drive if he ever settled down, we've got an answer for you, it is Jaguar XF Sportbrake.
Corvette Callaway Aerowagen : callawaycars.com/homepage/cars/callaway-corvette/callaway-aerowagen-package
Callaway AeroWagon package could be installed on any standard production Corvette C7, including the Stingray, Grand Sport, and Z06, effectively turning them into shooting brakes.
Ferrari GTC4 Lusso: auto.ferrari.com/en_EN/sports-cars-models/car-range/gtc4lusso
Ferrari GTC4 Lusso was first presented in 2016 and in essence is a renewed version of the FF model.

source