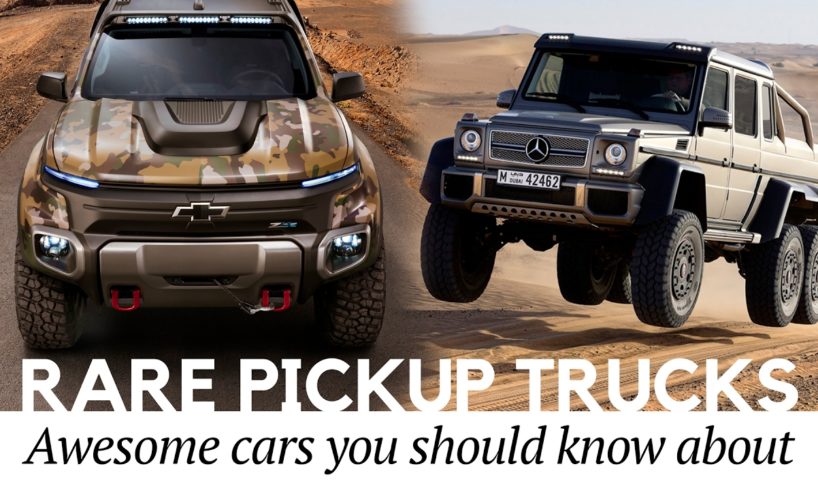 Pickup trucks. These vehicles are usually associated with toughness, functionality, strong build quality that enable them to easily cope with all driving scenarios.
But just like with any other automobile manufacturing segment, the pickup trucks of the future are being influenced by modern design trends and consumer preferences. In order to fulfill both the design and consumer preferences the manufacturers try to amaze us with their vision and understanding of trucks of the nearest future.
With an aim of finding out whether trucks are expected to become even meaner and tougher or more convenient and comfortable, a series of awesome truck concepts were reviewed.
Let's take a closer look at them:
Chevrolet Colorado ZH2: media.gm.com/media/us/en/gm/news.detail.html/content/Pages/news/us/en/2016/oct/1003-zh2.html
Chevrolet has developed the first version of their hydrogen-powered pickup truck that is supposed to provide extreme off-road performance. Codenamed Colorado ZH2, this truck was built on a specially modified and enhanced Colorado platform and fitted with 37-inch heavy duty tires.
It is believed that hydrogen fuel-cell technology was applied to a vehicle prototype that may be used for military purposes because of its quiet operation, reduced acoustic and thermal signatures, long driving range and the instant torque that all electric motors are famous for. Colorado ZH2 also received a specially modified suspension that helps to climb over and descend all manner of terrain.
Mercedes-Benz X-Class: www.mercedes-benz.com/en/mercedes-benz/vehicles/mercedes-benz-concept-x-class/
Mercedes-Benz is planning to enter the mid-size pickup segment with their world's first true premium pickup for the modern urban lifestyle. The specially constructed suspension with wide axles, a five-link rear axle with coil springs, and a precisely calibrated spring/damper set-up will ensure a high ride comfort – on the road and off the road.
Jeep Crew Chief 715: media.fcanorthamerica.com/newsrelease.do?id=17366&mid=737
The engineers at Jeep created Crew Chief 715 as a tribute to the legendary military service vehicles, in particular the Kaiser M715.
Although it received a lot of parts from Wrangler Unlimited, Crew Chief 715 has some of its own unique specifications, exterior and interior features to be proud of.
The military-like look is supported by specially designed front and rear bumpers, off-road rock rails, characteristic 20-inch wheels and massive 40-inch tires.
Under the hood Jeep Crew Chief 715 hides a 3.6-liter V6 Pentastar engine, the output of which will be handled by a 5-speed automatic gearbox. Other important performance features include a master cylinder brake upgrade, cold air intake and a modified exhaust.
Ford F-150 Raptor: media.ford.com/content/fordmedia/fna/us/en/products/trucks/f-150/2017-f-150-raptor.html
The proud owner of the "Four Wheeler Pickup Truck of the Year" award, Ford F-150 managed to show the best performance after going nearly 1,000 miles through an obstacle course that included a variety of terrain including trails, sand dunes, freeway and instrumented track testing.
Such off-road performance is provided by a 3.5-liter V6 twin-turbocharged EcoBoost engine that makes 450 horsepower and 510 pound-feet of torque. Such immense power output is handled by a 10-speed automatic transmission with manual-shifting mode. It sends all that power to all four wheels and brings the truck to the speed of 62 miles per hour in about 6 seconds.
Velociraptor 6X6: hennesseyperformance.com/vehicles/ford/f-150-raptor/2017-ford-f-150-raptor/velociraptor-6×6/
If the stock F-150 Raptor doesn't seem like enough for you, there is a company that offers performance upgrades for this truck.
Guys at Hennessey Performance use F-150 Raptor to create their high-performance Velociraptor 6X6 truck. The first step in the modification process involves a twin turbocharger upgrade to the installed 3.5-liter V6 EcoBoost engine that will bring the output level to 600 horsepower.
Mercedes-Benz G 63 AMG 6×6: www.mercedes-benz.com/en/mercedes-benz/vehicles/passenger-cars/g-class/the-automotive-declaration-of-independence/
Up to date Mercedes-Benz G 63 AMG 6×6 is one of the most powerful representatives of G-Class family.
This mean 6-wheel truck is equipped with a 5.5-liter biturbo V8 engine that produces power 544 horsepower and of 560 pound-feet of torque.
With such engine setup and a 7G-TRONIC automatic transmission, Mercedes-Benz G 63 has no problem accelerating to the speed of 62 miles per hour in just 5.6 seconds. It's good to know that this pickup boasts awesome driving dynamics and quick acceleration but that most people won't be using it to sprint in the straight line and would rather engage in some serious off-road activities.
Also check out the daily car news channel: https://www.youtube.com/channel/UCpZXy6oBMCjC_XsdMGKYgwQ

source