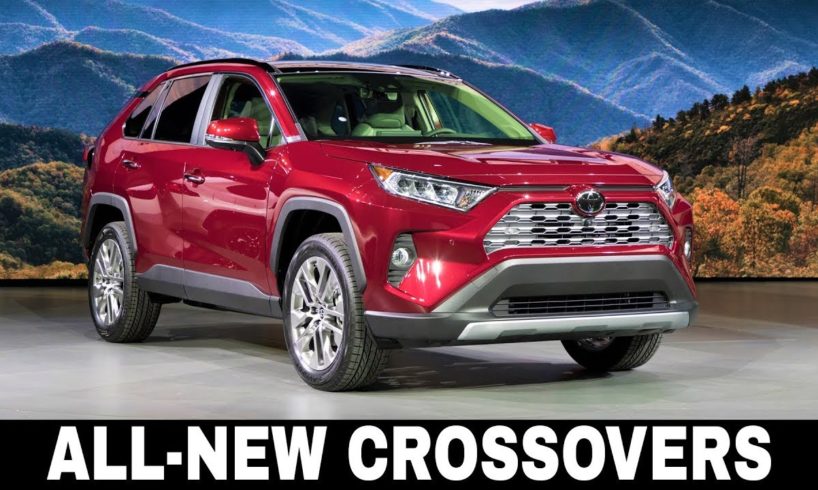 SUBSCRIBE to our channel: https://www.youtube.com/channel/UCu05qdj67VEs4n0qSLF-80w?sub_confirmation=1
More interesting episodes:
7 Cheapest Cars with Hybrid Engines: https://www.youtube.com/watch?v=oBbrQ67kO3Q
Top 10 Fastest Crossover SUVs on Sale Today: https://www.youtube.com/watch?v=gDyQwNgUjB8
While you are still undecided about what 2018 model of a crossover to buy today, manufacturers have already rolled out a whole new bunch of upcoming models, that overshadow the old designs and bring new performance standards to the table. In this episode you will learn about the most amazing upcoming models of crossover SUVs that will be setting standards for the 2019 family vehicles.
Here is the full lineup for you:
2019 Toyota Rav 4
Though this crossover was not presented in 2018 with great spectacle and parades, it is indeed one of the most significant releases for the 2019 model year, since RAV4 is among the bestselling Toyotas and crossovers all over the world.
2019 Subaru Forester
Subaru Forrester crossover is built on the same modular platform as Ascent and Impreza and together they represent the future of Subaru.
2019 Infiniti QX-50
The all-new QX50 has turned out to be almost identical to the previously shown concept and that is actually a good thing.
2019 Audi Q8
Unlike many automobiles these days, the recently revealed Audi Q8 stayed true to the previously shown concepts.
2019 BMW X5
The exterior design of the new BMW X5 underlines sportiness of this SUV. Though slightly reshaped front nostrils are still intimidatingly huge and are assisted by additional air intakes on the performance M trim.
2019 Subaru Crosstrek
Since Subaru Crosstrek received a complete redesign for the 2018 model year it stays unchanged in 2019 in terms of looks.
2019 Jeep Renegade
In 2019, Jeep's smallest crossover-SUV gets a more modern look with new grille, redesigned front fascia, full LED fog and headlamps, and updated LED X-taillights.
2019 Chevrolet Blazer
Discontinued in 2005, Chevy Blazer is coming back in 2019 as a completely new mid-size crossover that will land between Equinox and Traverse in the company lineup.
MUSIC CREDITS:
Wildlife by Declan DP
soundcloud.com/declandp/wildlife
goo.gl/SsxigR
Creative Commons – Attribution-ShareAlike 3.0 Unported
creativecommons.org/licenses/by-sa/3.0/
Look Up by Ikson
Music by: https://www.soundcloud.com/ikson

source