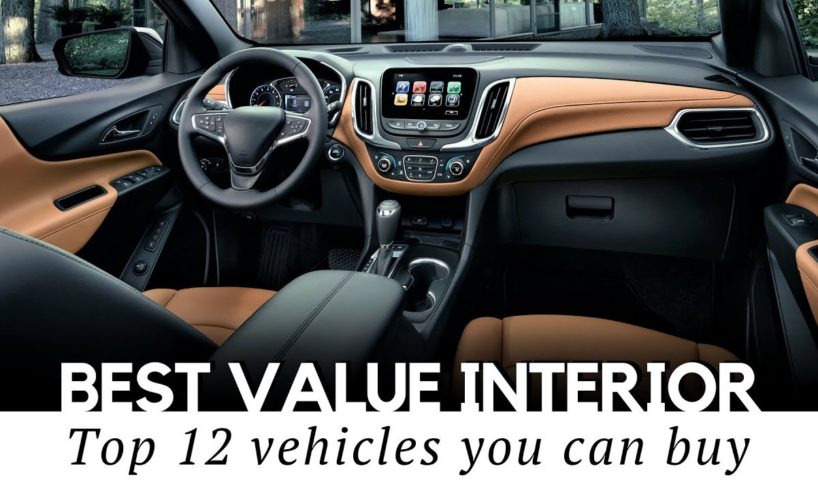 When a car is passing by the first thing you look at is the exterior, but seasoned drivers, always say, you drive on the inside of a car not on its hood, so the practical, comfortable and tech advanced interior is a must for a driver's automobile. In this episode we will show you cars that have the best interiors in various price segments from the most affordable and all the way to luxury models.
Other videos that you may find interesting:
Newest 4 door cars that are coming to the market: https://www.youtube.com/watch?v=DZYDz1Tr2jc
10 vehicle with highest reliability scores: https://www.youtube.com/watch?v=xIPttZ9GZec
Cars featured in this video:
VW Jetta: vw.com/models/2019-jetta
The 2019 model year of VW Jetta is hands down one of the most expensive looking affordable sedans that deserves attention of any car shopper next year..
Kia Forte: kia.com/us/en/home
Since this is a Kia, you can expect from the 2019 Forte lots of standard features and high safety rating.
BMW X5: press.bmwgroup.com/global/article/detail/T0281455EN/the-all-new-bmw-x5:-the-prestige-sav-with-the-most-innovative-technologies
The new BMW X5 comes in as an aggressive 5-seater SUV with a planned update to the 7-seat layout for 2019.
Kia Stinger: kia.com/us/en/build/stinger/2018/trims
Kia Stringer is one of the few sensations of the 2018 model year, that unexpectedly took the sports sedan segment by storm and managed to challenge the giants like Porsche Panamera and BMW 5 Series in its GT modification.
Infiniti QX-50: infinitiusa.com/crossover/qx50
Infiniti QX50 is almost identical to the previously shown concepts, it is luxurious and has a unique powertrain with variable compression.
Mercedes Benz A-Class: media.daimler.com/marsMediaSite/en/instance/ko.xhtml?oid=39901366
The new Mercedes A Class is bigger on the outside and roomier on the inside. Besides carrying lots of amazing updated, the interior still steals the show.
Hyundai Kona Electric: hyundai.news/eu/press-kits/all-new-hyundai-kona-electric-a-car-of-no-compromise
Hyundai Kona Electric is expected to become world's first affordable electric crossover.
Ford Expedition: ford.com/suvs/expedition
Do you want the biggest Ford in the world that is currently produced? The Ford Expedition Max is the one!
LINCOLN MKZ Hybrid: lincoln.com/luxury-cars/mkz/models/hybridreserve
Built on the Ford Fusion platform the MKZ hybrid is a more luxurious offering with fantastic interior.
Toyota Camry: toyota.com/camry/
2018 Toyota Camry is a completely redesigned midsize car that has a 5-star rating from NHTSA and is an IIHS TopSafety Pick+.
Chevrolet Equinox: chevrolet.com/suvs/equinox-compact-suv
2018 Chevrolet Equinox is a new generation compact SUV packed with convenience and safety technologies offering a dependable and comfortable ride
Genesis G90: genesis.com/worldwide/en/luxury-sedan-genesis-g90-design.html
The 2018 G90 is the first attempt of Hyundai's luxury brand to create a luxury sedan. What is notable right away is that only a few options are available, while almost any high end feature that you can think of comes as a standard.
Genesis G80 Sport: genesis.com/us/en/sedan/g80-sport.html
This is an enhanced modification of the luxury sedan G80 that brings aggressive styling and twin turbo performance to the already luxurious car.

source