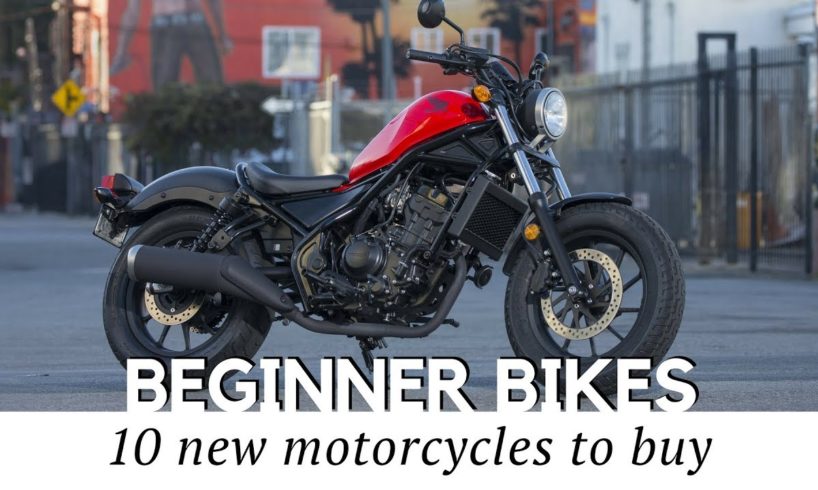 When buying your first bike the backwards strategy would be to purchase it based on the looks. You might like the sporty lines of Honda CBR600RR, but this beast could be rather dangerous for an unexperienced rider. Firm feet position on the ground while at rest, comfortable upright posture in movement and forgiving powertrain these are the traits that you should be looking for in a beginner motorcycle.
Today we are presenting only the latest beginner newcomers with their prices and technical specifications, plus we picked two-wheelers from different classes to make sure that you are able to find the one that fits your riding needs.
Motorcycles featured in this video:
Zero S: zeromotorcycles.com/zero-s
Zero Motorcycles is the current undisputed leader in the production of electric bikes. Their latest and hottest introduction to the market is Zero S that also comes in a more powerful modification SR.
Honda CB500F: honda.co.uk/motorcycles/range/street/cb650f/overview.html
If you are not considering buying a new motorcycle every few years and want to get the "one" that can satisfy your desires as a beginner rider and further on as you progress, you must definitely look into a Honda CB500F.
Triumph Bonneville Bobber: www.triumphmotorcycles.co.uk/motorcycles/classics/bonneville/2018/bobber
Yamaha MT-07: yamaha-motor.eu/uk/products/motorcycles/hyper-naked/mt-07.aspx
Yamaha MT-07 brings a 698 cc parallel twin engine to the road, that is capable of delivering power in a linear way that will be appropriate for new riders and veterans will be able to enjoy additional kick.
Honda Rebel 300: powersports.honda.com/2017/rebel-300.aspx
The latest 300 is a descendant of a familiar Rebel 250 that has been manufactured since 1985. Many consider this bike as a perfect "my first ride" vehicle due to the humble engine, light 364-pound weight, comfortable riding position and immaculate balance.
Kawasaki Z650: kawasaki.com/Products/2017-Z650-ABS
In reality the Z650 is a camouflaged sports bike and the major reason for that is the same twin engine and chassis as the ones on Ninja 650. However, all of the available power comes at low and mid-range grunt that is not overwhelming for new riders.
Kawasaki Versys 300-X: kawasaki.com/Products/2017-Versys-X-300-ABS
Kawasaki Versys 300-X is ready for some serious off-road adventures but at the same time remains road-legal and can serve as a decent commuter.
KTM 125 Duke: ktm.com/naked-bike/125-duke-2018/
All in all, KTM 125 Duke, is one of the best budget models for the very new riders, who want to make their transition to motorcycling safe and at the same time want to stay away from the notorious Yamaha YBR 125 at all costs.
Yamaha Tracer 900: yamaha-motor.eu/uk/products/motorcycles/sport-touring/tracer-900.aspx
Yamaha has quite a number of sport touring models in its garage, but the only viable options for a beginner rider are Tracer seven and nine hundred.
MW R Nine T Pure: bmwmotorcycles.com/us/en/bike/heritage/rninet_pure/rninet_pure_overview.html
BMW R Nine T Pure is reminiscent of the machines from the 70s and 80s era with its circular headlamp and tachometer. It is the most stripped down version of the lineup and this allowed to lower the price to $11,995.
Suzuki GSX250R: suzukicycles.com/Product%20Lines/Cycles/Products/GSX250R/2018/GSX250R.aspx
Even though, one of the humblest entries to the sportbike lineup with just 25 horsepower pushing you forward, GSX050R it is definitely worth consideration.

source