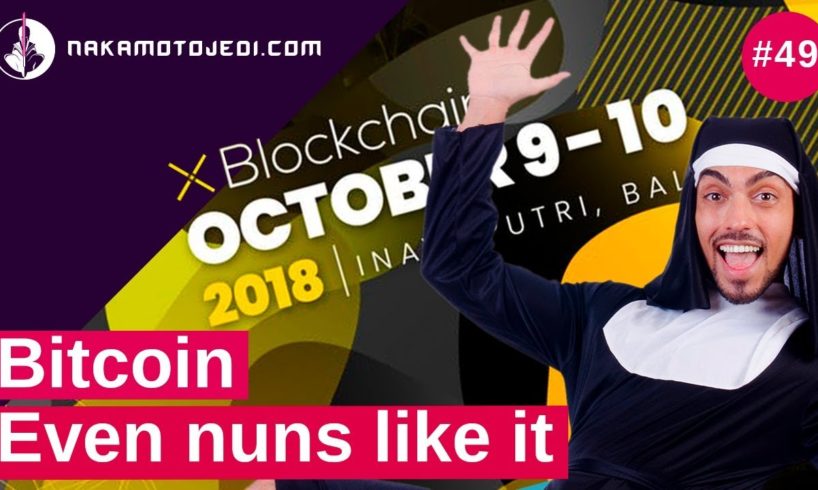 cryptocurrency news from Xblockchain : crypto conference blockchain crypto news today with Nakamoto Jedi http://nakamotojedi.com
cryptocurrency news and the best crypto conferences – subscribe to NakamotoJedi crypto news channel
What has bitcoin rally on Monday lead to, and whom to blame for it? The crypto community assumes that Tether is the main culprit. The stablecoin became an outcast, lost the money of the investors and got ignored by Bitpay and Binance . What's more, OKEX crypto exchange is adding other stablecoins but not USDT – it has fallen out of favor. Some media even mentioned that Binance is going to delist Tether. But this is Fake News, as Donald Trump would say.
But how do you think, is Tether really responsible for it? Write in the comments.
"Bitcoin Jesus" Roger Ver claims that FBI is surveilling each and every client of cryptocurrency exchanges. And Russian government fined the church for mining BTC . Who would have ever guessed that nuns could mine bitcoin !
After the case with Petro in Venezuela, should we hope that national cryptocurrencies can save the economics? Our crypto Jedis met Fernando M. Furlan, President of the Brazilian Association of Cryptocurrencies and Blockchain, at Xblockchain in Bali and asked to share his viewpoint.
In Bali CryptoJedis had a chance to talk with the representative of Pundi X Gerhard Drobits about blockchain revolution and new generation of POS. The representative of Bit-Z crypto exchange , which is in the list of top 10 largest trading platforms in terms of daily trading volume, also communicated with them. Watch the episode and get the insights!
And do you remember that NakamotoJedi is giving away 10 FREE VIP tickets to Crypto Invest Summit https://cryptoinvestsummit.io? You still can take part in the giveaway: subscribe to the channel, like this video https://www.youtube.com/watch?v=zyt8X0Upou8&t=7s and leave a comment under it.
If you don't want to wait, go via this link: https://cryptoinvestsummit.io/registr…. Mention the promo code NakamotoJedi30 and get the 30% discount for a ticket!
These days NakamotoJedi has so many updates, so follow us in social media and read bitcoin news on our website:
https://NakamotoJedi.com
Tweets by NakamotoJedi
https://facebook.com/NakamotoJedi/
https://t.me/cryptoconsultinginfo
https://medium.com/@NakamotoJedi
NakamotoJedi — Your Jedi Master in Blockchain and Cryptocurrencies! elastos
#cryptocurrency #news #xblockchain #crypto #blockchain #okex

source