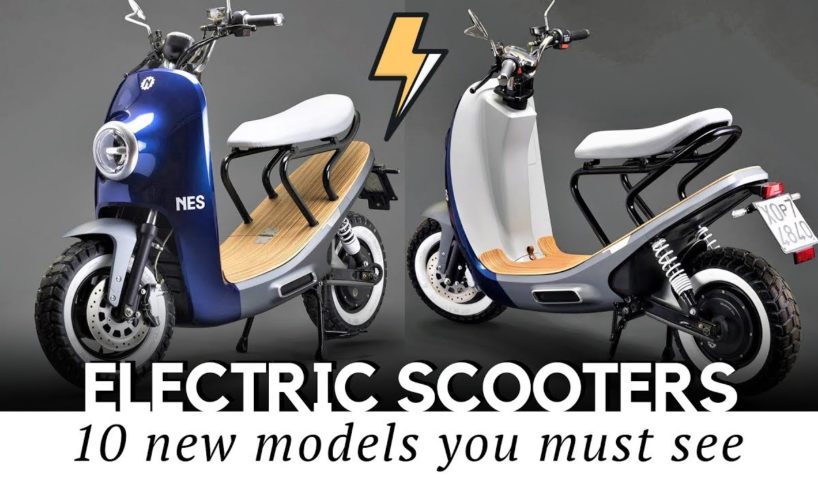 It might come as a surprise to you, but each year there are nearly twice as many motorized two-wheelers sold than cars and this trend is reflected in the sale numbers of electrified models as well.
The family of electric scooters and mopeds is growing incredibly fast, due to the hardly noticeable running costs, extreme agility in the heavy city traffic and affordability unmatched by any other form of personal city transport besides a bicycle of course. In today's video, we are presenting to you the lineup of new e-scooter models that are going on sale in the nearest future to solve all of your commuting needs of a busy city dweller.
Previous #AutomotiveTerritory videos on this topic:
Electric bicycles to appear the upcoming years: https://www.youtube.com/watch?v=COaGP_0Ix_o
High-tech electric motorcycles that already exist: https://www.youtube.com/watch?v=o_yLKbYaATU
All scooters featured in this part of the #ATelectricbikes series:
Vespa Elettrica: vespa.com/en_EN/news-promo/vespa-elettrica.html
Vespa Elettrica is the first fully electric scooter of the Italian manufacturer Vespa. The vehicle has the brand's iconic design and an expected range of 62 mi.
KYMCO Ionex: ionex.global/
KYMCO Ionex is a line-up of the company's first fully electric scooters that includes two models, New Many 110 EV and more tuned down Nice 100 EV.
Niu M+ and NGT: niu.com/en
As of today Niu is one of the most successful manufacturers of electric scooters in the world. By the end of 2018 they are introducing two all-new models to the lineup: M+ which is designed to carry two people and follows the moto the "city must be shared" and NGT, which is the most capable performance scooter from Niu.
Honda eCub: sh-customs.com/home
If you ever wondered what the most numerous vehicle on the planet was, the answer is a small scooter from Honda called Super Cub. The Chinese company Shanghai Customs chose to cash in on the success of the model and created an electric version of the scooter called eCub.
Nito Nes: nitobikes.it/en/product/nes
NES is manufactured by the Turin-based company Nito, that also offers electric bicycles, scooters and mopeds. They offer two NES trims, with varying speed and range parameters.
Nuuk: nuuk-europe.com/en
Rieju Motorcycles is a rather small Spanish motorbike manufacturer, that however has great history behind it. To meet the rising demand for sustainable transport in Europe, they recently added to their lineup of dirt and sport bikes, an electrified version called the Nuuk.
UJET : ujet.com/en
Ujet is a foldable electric scooter that lets you cope with the problem of parking your ride in the streets. This two-wheeler is developed by a Luxembourg startup.
AppScooter from Etergo: etergo.com
Previously known as Bolt Mobility, this Netherlands based startup was rebranded in 2018 and has been accumulating funds to start series production of the AppScooter that has been dubbed in the media as the Dutch Tesla on two wheels.
BiCar: shareyourbicar.com
Developed by engineers from Zurich University of Applied Sciences, BiCar is an ultimate transport solution for easy urban commute. It is fully electric and 9 times smaller than a car, while being as safe and comfortable as a regular car.
Ather 450: atherenergy.com
Ather 450 is the latest model of an e-scooter by the Indian manufacturer Ather Energy. It has a reverse mode and a true range of 47 mi with an option of fast charge to 80% in one hour.
Honda PCX Electric: hondanews.eu/eu/et/motorcycles/models/pcx-electric
Honda PCX Electric is an electric version of Honda's best-selling model PCX150, powered by a 1kW electric motor and two replaceable Honda Mobile Power Pack batteries.

source