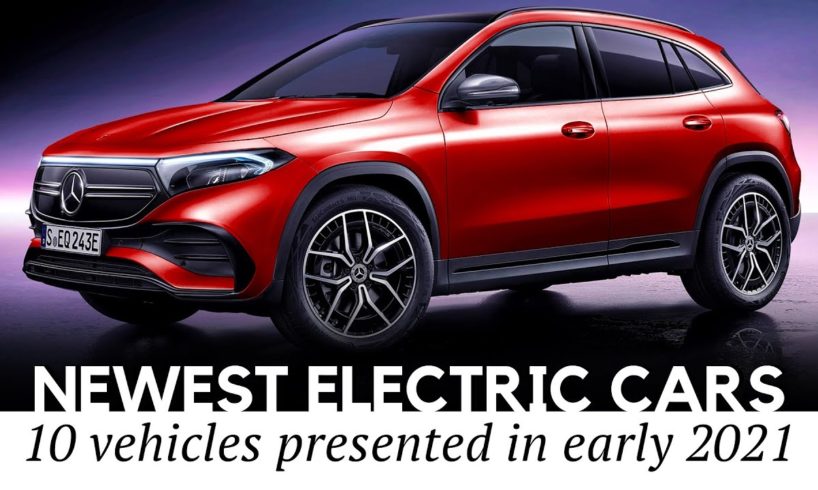 2021 is already here, the year that has already been labeled by the automotive community the dawn of electric vehicles. Besides the numerous models that we have already reported on, the roster of all-new EVs is being expanded with yet another batch. In this video we will deliver the latest news within the segment, so get ready to get excited about the future!
Previous #AutomotiveTerritory videos that extensively cover EV-related topics:
Electric performance cars in the hatchback body style: https://www.youtube.com/watch?v=E6mIZmRLP0w
All-electric crossover SUVs to be excited about in 2021: https://www.youtube.com/watch?v=ADjfi6M0nrE
Find out more about all of the models that were shown in this #ATelectriccars release:
Sony Vision S: sony.net/SonyInfo/vision-s/
After an overwhelmingly positive feedback from the media and consumers, the Japanese tech giant has yielded to the demand and moved the Vision S project to prototype testing stage. The project is being developed in cooperation with the Austrian Magna Steyr.
Nio ET7: nio.com
Already labeled as a major Model S competitor on the Chinese market, the ET 7 is the first premium sedan from Nio.
Toyota Mirai pressroom.toyota.com/2021-toyota-mirai-hits-dealerships-in-december-with-cutting-edge-technology-enhanced-safety-and-multiple-grades/
The new generation Toyota Mirai finally arrives to the market, boasting of a premium RWD platform, larger dimensions, and a more powerful drivetrain setup.
MINI John Cooper Works Electric: press.bmwgroup.com/global/article/detail/T0321611EN/mini-develops-concepts-for-electric-john-cooper-works-models
2021 is the year when the world of electric hatchbacks will be welcoming a new model – a performance enhanced version of the Mini Electric, developed by the John Cooper Works division.
Ford E-Transit: media.ford.com/content/fordmedia/feu/en/news/2020/11/12/All-Electric-Ford-E-Transit.html
2022 Ford E-Transit promises a solid range per charge, plus several industry-first features. From the outside, the difference between a regular and a zero-emission van is marked by a new grille with blue bars, a nose-located charging socket and special badges across the body.
ALPHA ACE: alphamotorinc.com/ace
The California based Alpha Motor Corporation rejects the idea that all electric vehicles need to be weird and futuristic looking, so instead their new Ace EV harkens back to the era of 1960s and early 70s.
BYD Han: en.byd.com/news-posts/byds-flagship-han-ev-series-officially-goes-on-sale/
Specializing in cars, buses, trucks and batteries, the Chinese BYD motors is not a widely known manufacturer outside Asia, though it has been expanding rapidly during the recent years. Upon entering the European market in 2020, BYD unveiled its first luxury sedan, named Han.
Xpeng P7 and Wing Limited Edition: en.xiaopeng.com/news/news_info/3715.html
Despite being embroiled in the lawsuits alleging stolen intellectual property from Tesla and Apple, the Chinese electric car startup Xioapeng Motors has begun the European offensive in 2020. Their latest highlight of the lineup is a sedan Xpeng P7 dubbed China's Model 3.
Aptera: aptera.us/
The concept of the Aptera, a never charge extremely aerodynamic and efficient EV, has been around for 16 years now. In 2020 however, after a decade long hiatus caused by the lack of funds, the original founders of the company are making a cautious comeback.
Canoo: press.canoo.com/
Established in 2017, the American startup Canoo has been doing very well in the recent years, striking a partnership with Hyundai in early 2020, and even being rumored to negotiate with Apple for the development of its first EV. The company debuted on NASDAQ in fall 2020, and at the same time to boost the appeal, revealed this all-new multi-purpose delivery vehicle.
Renault 5 Prototype en.media.groupe.renault.com/news/renaults-nouvelle-vague-670d-989c5.html
Renault 5 Prototype is the first step in Renault's five-years strategic plan, that includes 14 new core vehicles by 2025, all of which will be either fully-electric or have a hybrid version. From the outside, the Renault 5 Prototype pays tribute to original supermini R5 GT but with modern styling cues.
Mercedes-Benz EQA250: daimler.com/products/passenger-cars/mercedes-benz/eqa-2021.html
According to Mercedes, in 2021 their electric EQ lineup will debut 4 new models: EQA and EQB crossover SUVs and EQS and EQE sedans. The subcompact EQA250 is the first to break the covers and it will be immediately hitting European dealerships in Spring 2021.

source