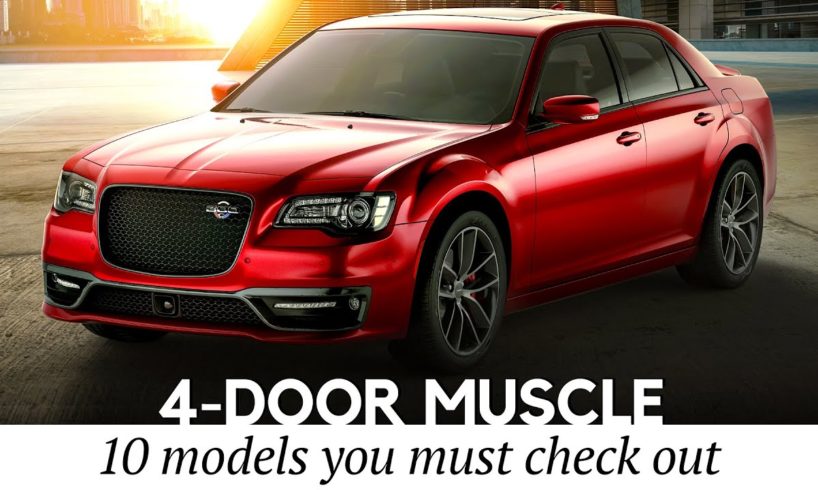 When you think of muscle cars, the first thing that comes to mind is a high performance coupe with a solid potential for drag strip racing. But trust us, beginning from the golden era, this category has always included 4-door models like the legendary Ford Thunderbird Landau Sedan or Dodge Coronet. So in today's video we will explore the spiritual descendants of these classics; they defy the old standards by doubling, tripling or even quadrupling the horsepower and torque figures.
More #AutomotiveTerritory content that you may find useful:
Muscle crossovers and SUVs that are coming for 2023 MY: https://www.youtube.com/watch?v=_kwQXeScrfU
Latest supercars that could replace your family vehicle: https://www.youtube.com/watch?v=MNwL1hmiAQo
Rundown of all models shown in this release from the #AT_New_Cars series:
00:00 Introduction
00:49 Chrysler 300C HEMI V8
media.stellantisnorthamerica.com/newsrelease.do?id=24275&mid=29
The "300" moniker has made an imprint throughout different stages of Chrysler's history; it existed in various forms, but all of them shared the spirit of a luxury high performance auto. The latest incarnation of the 300 is a full-size sedan with the most distinguishable looks.
02:15 BMW M760e
press.bmwgroup.com/global/article/detail/T0404080EN/progress-and-efficiency-with-added-variety:-additional-drive-system-variants-and-innovations-for-the-new-bmw-7-series
2023 BMW M760e is the first M-badged model with a PHEV drive system. It combines efforts of a 3-liter TwinTurbo I6 with an electric motor, juiced by an 18.7 kWh battery.
03:44 Mercedes-AMG C 63 S E Performance
group-media.mercedes-benz.com/marsMediaSite/en/instance/ko.xhtml?oid=54141646&ls=L2VuL2luc3RhbmNlL2tvLnhodG1sP29pZD00ODM2MjU4
The Mercedes-AMG C 63 S E Performance becomes a plugin hybrid model: on one hand we get the most powerful, most efficient, most technological and quickest version of all-time, and on the other we lose 4 cylinders and dynamism of a rear-wheel drive.
05:20 Bentley Flying Spur Speed
bentleymedia.com/en/newsitem/1371-flying-spur-speed-completes-new-product-portfolio
2023 Bentley Flying Spur Speed comes powered by 6-liter twin-turbo W12 engine with 626 hps, 664lb-ft and 207 mph.
06:54 Lucid Air Sapphire
lucidmotors.com/air
2023 Lucid Air Sapphire is the flagship version of the Air sedan that offers 1200 horsepower and 1.99 seconds 0 to 60 acceleration.
08:15 Mercedes-AMG GT 63 S E-Performance + Formula 1 Edition
mercedes-amg.com/en/vehicles/gt/4-door-coupe-e-performance-pad.html
Mercedes-AMG are transitioning to the new era of performance hybrid powertrains; the very first model to receive this PHEV technology is the flagship 4-Door coupe with the E PERFORMANCE badge. The AMG GT 63 S gets a characteristic front apron.
09:37 Brabus Rolls Royce Ghost
brabus.com/en/cars/cars-for-sale/C4S700RR.html
2023 Brabus Rolls Royce Ghost arrives with carbon fiber exterior and interior treatment, as well as a performance boost for its 6.7L twin-turbo V12.
11:06 Mercedes-AMG EQE
mbusa.com/en/future-vehicles/2023-amg-eqe-electric-sedan
2023 Mercedes-AMG EQE arrives in 2 versions, EQE 43 with 469 hps and EQE 53 with 617. The latter can be optioned with Dynamic Plus package that raises the output 677 hps and improves 0 to 60 acceleration to 3.3 seconds.
12:45 Dodge Charger
media.stellantisnorthamerica.com/newsrelease.do?id=24058&mid=
The French overlords from Stellantis are forcing Dodge to forfeit its iconic heritage of V8 power and transition to all-electric powertrains. Therefore 2023 will be the last production year for the Charger with all of the models decorated with the Last Call plaques.
13:59
Brabus 900 Mercedes-AMG E 63 S
brabus.com/en/cars/supercars/brabus-900-e63.html
2023 Brabus 900 Mercedes-AMG E 63 S gets the brand's 900-horsepower engine treatment, a sports suspension kit, carbon fiber exterior elements, and new 21inch Monoblock Z wheels.
15:24 Manhart MH3 GTR
manhart-performance.de/en/car/manhart-mh3-gtr-g80/
Based on the current M3 G80, Manhart MH3 GTR promises 650 horsepower and 590 pound-feet, squeezed from its 3.0-liter biturbo inline-six engine.

source