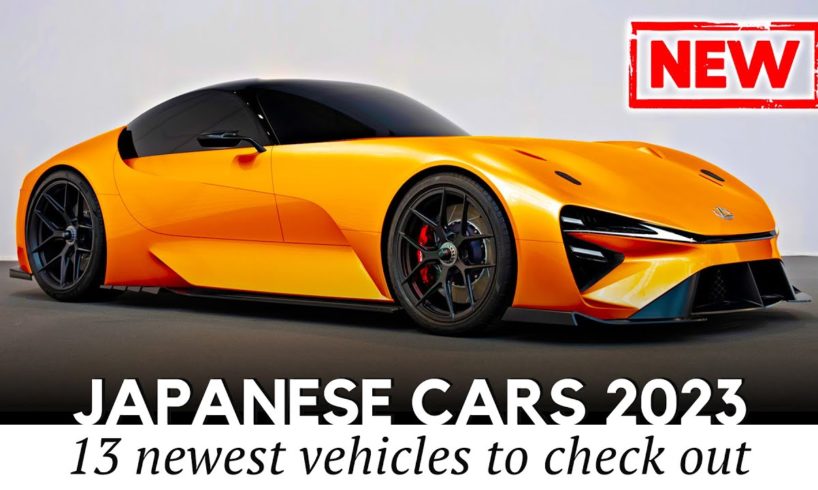 Years go by, but the trust that consumers put into Japanese cars remains strong, which naturally results in strong sales and high anticipation for each new model. Today, we would like to summarize the recent news about the upcoming cars from the isles and will include the most highly expected models. Toyota, Honda, Nissan, Subaru, Suzuki, Mitsu, we've got them all.
Previous video releases from #AutomotiveTerritory you might want to check out:
Largest new SUV models that you can buy in 2023: https://www.youtube.com/watch?v=0GnBZhSQAog
Smallest sports cars that you have to check out: https://www.youtube.com/watch?v=-W0Yc1VDoBQ
List of all models features in this #AT_New_Cars video:
00:00 Introduction
00:39 Mazda CX-90
news.mazdausa.com/vehicles-2024-cx-90
2023 Mazda CX-90 enters the game as the largest-ever crossover by the brand and its current flagship.
01:54 Toyota Grand Highlander
pressroom.toyota.com/the-ultimate-family-suv-toyota-grand-highlander-makes-world-premiere
In the past two years Toyota has sold nearly half a million Highlanders. These numbers make the mid-size the second best-selling Toyota in the US, surpassed only by the almighty Rav4. The all-new 2024 Toyota Grand Highlander is eager to exploit this popularity.
03:27 Suzuki Jimny 5-Door
marutisuzuki.com/corporate/media/press-releases/2023/january/maruti-suzuki-further-strengthens-its-suv-line-up
With over fifty years on the market, the Jimny has had a rather divisive reputation: for some it is the world's funnest body on frame SUV, but for others it is just a cramped box on wheels. By adding two more doors for the first time, Suzuki Jimny becomes a true G-Class for the masses.
04:48 Toyota Prius
pressroom.toyota.com/vehicle/2023-toyota-prius-prime/
For years, Prius has only been viewed as an economic daily driver for the fans of all-green culture, who could put up with its questionably attractive looks. In 2023, however, the alien from Toyota finally gains a properly futuristic design, plus a 65 percent more powerful and 10 percent more efficient drivetrain.
06:04 Honda Pilot Trail Sport
hondanews.com/en-US/honda-automobiles/releases/release-907c81858bdfe231c1cc3d0f70049220-rugged-all-new-honda-pilot-arrives-as-americas-ultimate-family-suv-pilot-trailsport-is-the-most-off-road-capable-honda-suv-ever
2023 Honda Pilot Trail Sport belongs to the fully revised 4th generation of the model, bringing its  more powerful V6, increased dimensions, and new tech. It also gets exlusive suspension tuning, 1inch lift, and 18inch wheels wrapped in all-terrain tires.
07:16 Subaru Impreza
subaru.com/2024-impreza.html
2024 Subaru Impreza arrives all-new, ditching the sedan body style and the previously offered manual transmission. It, however, brings a sporty RS trim, offering an exclusive 182-hp 2.5L 4-cyllinder engine.
08:24 Honda Prologue
automobiles.honda.com/future-cars/prologue
2024 Honda Prologue will be the first Honda built on a dedicated EV platform from GM, promising buyers Honda practicality and design, plus perky performance, fast charging, and 250 miles of range.
08:24 Sony and Honda EV Afeela
shm-afeela.com/en
Sony and Honda Afeela is a mid-size 4-door sedan that previers a 2025 production model, capable of level 3 driving autonomy.
10:29 Toyota Crown
toyota.com/crown
2023 Toyota Crown, marketed Crown Kluger outside of the US, blends a classic sedan with an SUV, borrowing the best elements of the two styles.
11:33 Honda Accord
hondanews.com/en-US/honda-automobiles/releases/sleek-powerful-and-electrified-all-new-2023-honda-accord-set-to-re-energize-the-midsize-sedan-segment
2023 Honda Accord enters its 11th generation as a more attractive version of itself, that offer 2 drivetrain options, comfier ride, and more advanced tech.
12:32 Mitsubishi XFC Concept
mitsubishi-motors.com/en/newsrelease/2022/detail1394.html
Mitsubishi XFC crossover will be launched as an ICE model in 2023, while its electrified version should arrive at a later date.
13:32 Nissan GT-R
usa.nissannews.com/en-US/releases/2024-nissan-gt-r-press-kit
After 15 years in production, the R35 generation of the GT-R continues to live up to its Godzilla nickname. The upcoming facelift brings an even more aerodynamic grille, reshaped spoilers and a slightly reshuffled trims selection.
14:51 Lexus Electrified Sport Concept
lexus.com/concept/electrified-future
Given that the LC 500 has not been an expected smash hit for Lexus, we can assume that the V8 coupe will be gradually phased out from the lineup. The replacement is likely to arrive in the form of an all-electric model with aerodynamically perfected body and unseemly advanced tech.

source