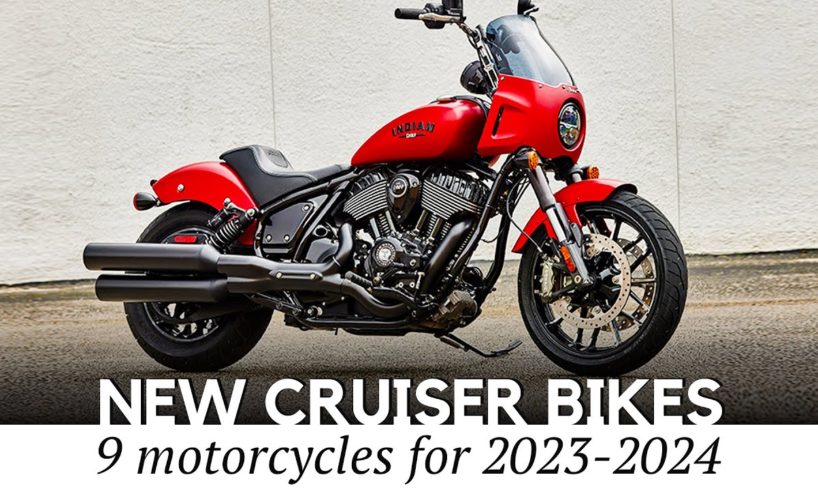 There has never been a better time to be a fan of highway cruising! The variety of bike models for all budgets is countless; their looks are outstanding and technological packages are exceptionally advanced. If you share our passion about these highway roaming machines, today we invite you to explore the newest models within the class of cruisers in 2023. We have got exciting limited editions and potential best-sellers of tomorrow.
More videos from #AutomotiveTerritory you have to see:
Latest models by Italy's Ducati motorcycles: ​https://www.youtube.com/watch?v=t3Qutxiaa8M
Unique motorcycle designs with custom body parts: ​https://www.youtube.com/watch?v=KJf1qllBoO0
Rundown of all models from this #ATmotorcycles video:
00:00 Introduction
00:35 Honda Rebel CMX1100T
hondanews.eu/eu/en/motorcycles/media/pressreleases/421078/23ym-cmx1100-rebel
The next chapter in the success story of Honda's rebellious family of bikes will be written by an all-new bagger with complete luggage, batwing fairing and a small flyscreen. The CMX1100T which stands for touring, comes in Gunmetal Black Metallic, uses the standard chassis of the of the Rebel 1100.
01:40 Indian Sport Chief
indianmotorcycle.com/en-us/sport-chief/
2023 Indian Sport Chief is the brand's new model, that build of the Chief cruiser and promises more aggressive looks and performance.
02:48 Royal Enfield Super Meteor 650
royalenfield.com/in/en/motorcycles/super-meteor-650/
Royal Enfield will dominate sales charts across the entire world at some point. Their next step to take over the globe is the all-new affordable cruiser Royal Enfield Super Meteor 650.
03:58 Buell Super Cruiser 1190 x RSD
​Buell Super Cruiser 1190 x RSD combines features of a high-performance superbike and a power cruiser. It should start production in 2025.
05:00 BMW R 18 100 Years
press.bmwgroup.com/global/article/detail/T0405885EN/bmw-motorrad-presents-the-r-ninet-100-years-and-r-18-100-years-to-mark-the-anniversary
2023 BMW R 18 100 Years celebrates the first century of bike-making for BMW. It is limited to 1923 units and is set apart by the unique paint-on chrome treatment.
06:01 Indian Challenger Elite
indianmotorcycle.com/en-us/challenger-elite/
2023 Indian Challenger Elite is a limited 150-unit edition that wears Sapphire Blue Smoke paintwork with 2 livery options, Black Smoke and Titanium Metallic Smoke.
06:59 Ducati Diavel V4
ducati.com/ww/en/bikes/diavel/diavel-v4
The dimension of muscle cruisers is about to get the new king of torque and horsepower in the form of the upcoming 2023 Ducati Diavel V4.
08:08 Harley-Davidson Low Rider El Diablo
h-dmediakit.com/us/news-articles/harley-davidson-launches-limted-edition-low-rider-el-diablo-model.html
Harley-Davidson Low Rider El Diablo is 1500-unit edition based on the 2022 FXLR Low Rider ST. It gets new bodywork, a custom paint scheme and a new audio system.
09:22 Praga ZS 800
pragaglobal.com/motorbikes/zs800/
2023 Praga ZS 800 is inspired by the 1928 Praga BD 500 motorcycle and is limited to 28 units worldwide.

source