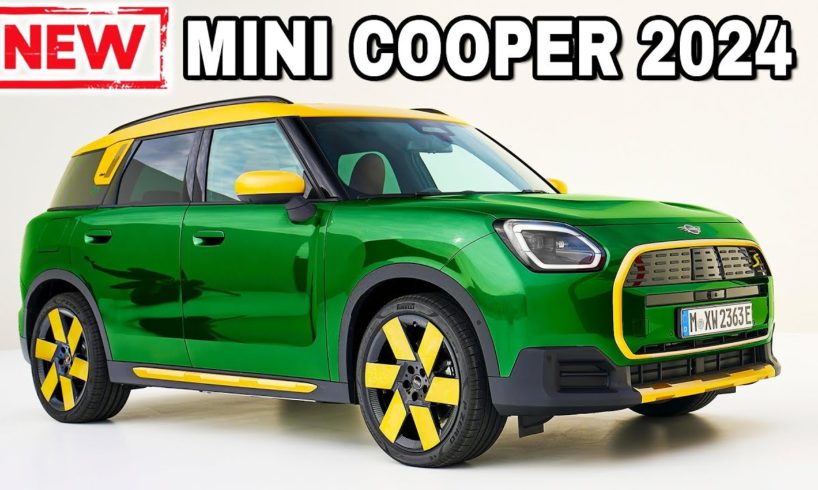 We keep calling Mini Cooper the iconic British brand, but for better or worse, the Union Jack moniker has long been fully absorbed by BMW, and now even production facilities are making a move to Germany and China. In this episode we will try to determine whether Mini is benefitting from this evolution by taking a look at their upcoming lineup of the 2024 model year. The roster is being actively electrified, new classes are being explored and more exclusives are going after the wallets of Cooper fans.
2024 Mini Cooper Electric Next Gen: miniusanews.com/newsrelease.do?id=1404&mid=1
The 2024 Mini Cooper Electric marks the introduction of the second iteration of Mini's initial electric vehicle and the fifth evolution of the Mini Cooper nameplate, which has upheld the British brand's heritage for six decades. The fresh three-door hatchback fully embraces a design ethos characterized by its charming simplicity.
2024 Land Rover and Range Rover SUVs: https://www.youtube.com/watch?v=RtU9QaODnu0
New Lotus Supercars: https://www.youtube.com/watch?v=G4XfJEmqG3o
2024 MINI Countryman: miniusanews.com/newsrelease.do?id=1405&mid=1
During the summer, Mini's stylish and spacious everyday crossover Countryman has undergone some changes. It has gained more volume while also enhancing its aerodynamics, achieving a coefficient of drag (CD) value of 0.26. The updates include broader wheel arches, narrower front and rear lights, a larger grille, and an increase in length by a substantial 5 inches and height by 2.5 inches.
2024 MINI John Cooper Works 1to6 Edition: miniusanews.com/newsrelease.do?id=1389&mid=1
2024 MINI John Cooper Works 1to6 Edition is 999-unit special edition that brings plenty of unique cosmetic updates and comes packed with premium features.
Mini Electric Convertible: mini.co.uk/en_GB/home/mini-editions/electric-convertible.html
Mini dismisses the electric convertibles that came before 2024 and claims the title of the world's first widely manufactured electric convertible for its Cooper SE model. This compact two-door car with seating for four will see a limited release of 999 numbered units in Europe.
Mini Aceman: mini.com/en_MS/home/products/mini-concept-aceman.html
As the next-generation Mini Countryman has grown to the point of almost being categorized as a compact crossover, Mini is now considering the possibility of introducing a 13-foot-long electric crossover to cater to the subcompact class. This new vehicle retains Mini's unique design identity while showcasing Mini's innovative Charismatic Simplicity design language.
MINI Cooper S Countryman ALL4 Uncharted Edition: press.bmwgroup.com/global/article/detail/T0419298EN/postcard-story-the-mini-cooper-s-countryman-all4-uncharted-edition
Ahead of the arrival of the next generation of Countryman models in 2024, Mini is bidding a fitting farewell to the popular second-generation variant with a special Uncharted Edition. The standout feature of this version is a striking dual-tone paint scheme in shades of greenish-gray and white.

source