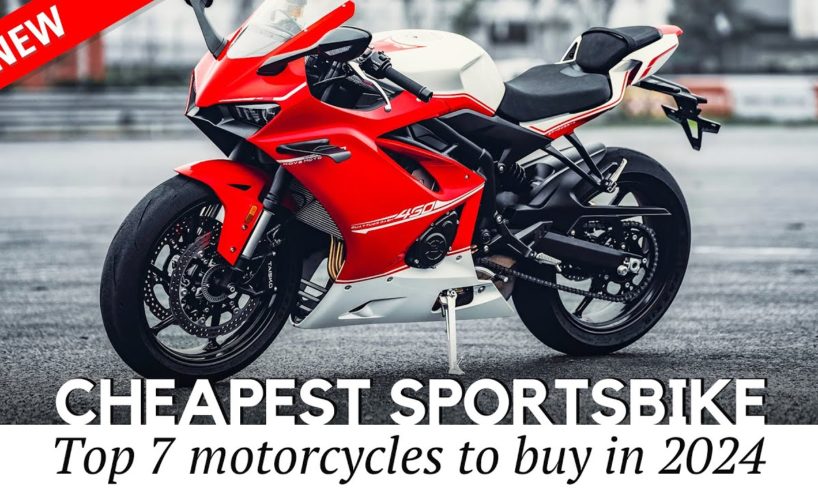 Let's say you got your license and finally have enough cash to buy the first bike. Rational thing to do would be getting a used model, in good condition from a reliable brand blah blah blah. But let's face it, you have been training and saving up for so long, that you deserve to treat yourself with a sparkling new sportsbike straight from the dealership. In this video we will be showing the cheapest upcoming high-performance motorcycles of 2024.
Other #AutomotiveTerritory content that you need to see:
Adventure scooters available in 2024: https://www.youtube.com/watch?v=dHZftmzoymM
Cheapest scrambler motorcycles on sale today: https://www.youtube.com/watch?v=mTTjRJnzdV4
List of all affordable motorcycles that were shown in this #ATmotorcycles video:
00:00 Introduction
00:43 Aprilia RS 457
aprilia.com/en_EN/landing-page/new-rs
The iconic Supersport heritage of the Aprilia RS 600 gives birth to a new version with reduced engine capacity to compete with the increasing demand for A2 models from KTM and Kawasaki. The 2024 Aprilia RS 457 is a performance-oriented motorcycle with a distinctive all-LED triple pod headlight, a robust fairing, and cutting-edge aerodynamic design.
02:25 KTM 390 Duke
ktm.com/en-fi/models/naked-bike/2024-ktm-390-duke.html
With this fully renewed scalpel, the world around becomes your very own gymkhana. The street fighting  2024 KTM 390 Duke is now built around a freshly developed steel trellis frame and die-cast aluminum subframe, which enhances torsional rigidity.
04:25 Kawasaki Ninja ZX-4RR
kawasaki.com/en-us/motorcycle/ninja/supersport/ninja-zx-4rr
2024 Kawasaki Ninja ZX-4RR arrives with an all-new 399cc liquid-cooled high-revving inline-four engine returning 77 horses.
06:05 Kove 450RR
kovemoto.com/index.php?c=show&id=73
Kove is a rising mid-sized Chinese manufacturer that has been gaining recognition by participating in global racing events such as the Paris Dakar Rally and WSSP 300. Their latest high-performance model, the 450RR, serves as the successor to a previously introduced concept, boasting significantly enhanced specifications.
07:42 Triumph Speed 400
triumph-mediakits.com/en/news-articles/the-new-speed-400-and-scrambler-400-x-two-all-new-triumph-modern-classics.html
Developed in cooperation with Bajaj Auto, the Speed 400 is Triumph's first true entry-level  bike model in the recent history. The company' plans to build the bike at its factories in Thailand and Brazil, as well as at Bajaj's Indian plant.
09:21 Moto Guzzi V7 Stone Corsa
motoguzzi.com/us_EN/models/v7/v7-stone-corsa-850-v-twin-4s-2023
Moto Guzzi V7 Stone Corsa is special edition version of the V7 that was revealed  during the 2023 Moto Guzzi Open House.
11:04 CFMoto 450NK
cfmoto.com/global/home.html
2024 CFMoto 450NK is the new 449cc bike from the Chinese brand, that is meant to go on sale across international markets, even reaching the US shores.

source