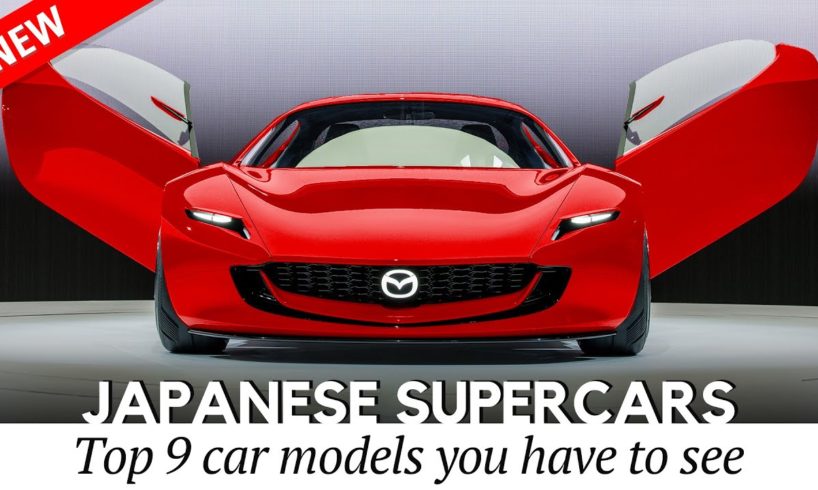 We all know that Japanese as the manufacturers of reliable everyday cars, superb rally racers and agile sports cars, but what about supercars? Just recently we were digging through the news and managed to assemble a lineup of already existing Japanese supercars as well as most promising concepts.
Other #AutomotiveTerritory videos that you have to check out:
Retro-style sports cars you have to see: https://www.youtube.com/watch?v=whxxtoSYoWA
High-performance 4-door coupes on sale in 2024: https://www.youtube.com/watch?v=VoGzyynn2CQ
Rundown of all vehicles reviewed in this #AT_New_Cars video:
00:00 Introduction
00:35 Mazda Iconic SP
newsroom.mazda.com/en/publicity/release/2023/202310/231025a.html
Despite a decade of anticipation, RX-7 enthusiasts are reluctant to abandon hope for the coupe's revival, and Mazda willingly stokes this enthusiasm with yet another concept. The Iconic SP is a remarkably stylish design exploration featuring a 102-inch wheelbase, striking pop-out headlights, and taillights resembling a Venn diagram.
02:11 Aspark Owl
asparkcompany.com
The solitary hypercar in Japan's production lineup Aspark Owl will be produced in Italy by Manifattura Automobili Torino, renowned for projects like the Apollo Intensa Emozione and the Devel Sixteen. Despite its manufacturing location, the pioneering technology, engineering, and design all originate from Japan and were developed by Aspark Co., based in Osaka.
04:01 Nissan GT-R NISMO
nissanusa.com/vehicles/sports-cars/gt-r/specs/nismo.html
2024 Nissan GT-R arrives with a slight facelift, new exterior colors, and a returning T-Spec trim level.
05:58 Toyota FT-Se
media.toyota.co.uk/toyota-to-reveal-suv-and-sporty-battery-electric-vehicle-concept-cars-at-the-japan-mobility-show
The Gazoo Racing Design Group is shifting its attention to the creation of an electric flagship sports car that will be available alongside the Supra and GR86 models. This Toyota FT-Se high-performance coupe is expected to be introduced post-2026 and will utilize Toyota's advanced modular platform, integrating the latest third-generation high-capacity battery technology.
07:53 AIM EV Sport 01
aim-info.co.jp/nev_project/en/
AIM EV Sport 01 is an electric car concept designed by the ex-Nissan chief designer Shiro Nakamura. It gets two electric motors combined in a rear-axle setup, producing 490 horses and 186 mph top speeds.
09:22 Subaru STI E-RA
subaru.com.au/news/subaru-sti-news-a-new-era-of-performance-exhilaration/
Under the umbrella of the Toyota Group, Subaru has shown eagerness to leverage the conglomerate's electric vehicle (EV) technology. Apart from the already unveiled Subaru Solterra crossover, Subaru engineers are currently testing the potential applications of the electric platform in the development of a Subaru STI E-RA hypercar concept.
10:25 Nissan Hyper Force
usa.nissannews.com/en-US/releases/nissan-unveils-all-electric-high-performance-nissan-hyper-force-concept-at-japan-mobility-show
Despite the transition away from internal combustion engines, Nissan's iconic "Godzilla" won't fade into obscurity. The potential electric successor has already been revealed to the public as a part of Nissan's 5-vehicle concept lineup at the recent Tokyo Autoshow. The Hyper Force coupe features a highly innovative and cutting-edge design.
12:09 Lexus Electrified Sport Concept
lexus.com/concept/electrified-future
Lexus Electrified Sport Concept will arrive as a production model by 2026, promising solid state battery tech and 2-seconds 0 to 60 acceleration.
13:27 Acura NSX Type S
acura.com
In 2022, the NSX, an iconic supercar, took its leave from the world, but not without receiving recognition. The farewell edition, restricted to 350 units, featured the exclusive Type S configuration. Acura's performance division added a standard carbon roof and a novel GT3-inspired carbon fiber diffuser to this veteran model.

source