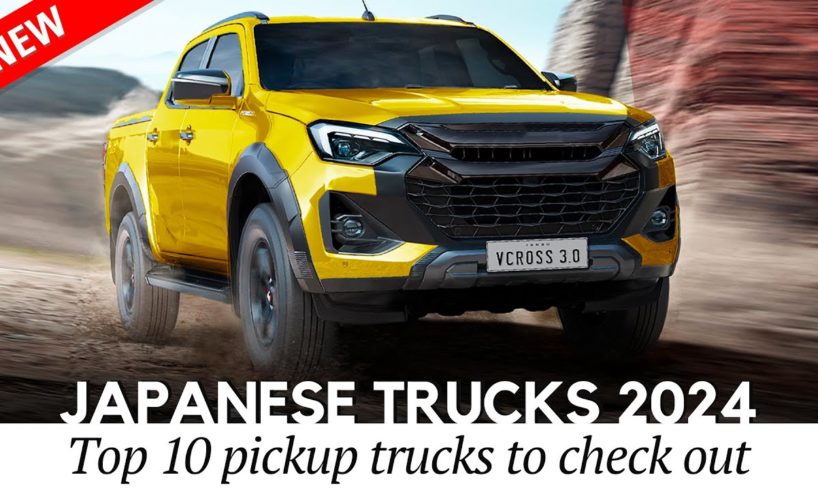 Even though America is the domain of pickup trucks, their domestically manufactured models have to work very hard to outsell Japanese competitors. The land of the rising son has established the reign in multiple segments and their capable presence is felt across the entire globe. Today we would like to present an overview of all internationally available Japanese pickups and cover the latest updates that they've gotten for 2024.
More #AutomotiveTerritory videos that you must see:
Best Japanese-made supercars you have to see: https://www.youtube.com/watch?v=Rw6buQLRb6M
Most exciting classic pickup trucks rebuilt to perfection: https://www.youtube.com/watch?v=w_5oycwxAnY
List of all models mentioned in this #AT_New_Cars video:
00:00 Introduction
00:36 Toyota Tundra 1794 Limited Edition
pressroom.toyota.com/toyota-unveils-2024-tundra-1794-limited-edition-at-state-fair-of-texas
The Tundra stands out as the top-selling full-size Japanese truck, providing a versatile solution for both work and leisure. In this review, we'll take a closer look at its newest flagship edition, which was introduced at the 2023 State Fair of Texas and will be restricted to a mere 1500 units. The 1974 Limited Edition is exclusively available for the CrewMax cab with a 5.5-foot bed and a four-wheel-drive setup.
02:26 Mitsubishi L200 (Triton)
mitsubishi-motors.com/en/newsrelease/2023/detail1438.html
2024 brings the first redesign for the Mitsubishi L200/Triton in 9 years. The truck gets upgraded underpinnings, new suspension setup and 3 body styles.
03:52 Honda Ridgeline TrailSport
hondanews.com/en-US/honda-automobiles/releases/more-rugged-ridgeline-2024-honda-pickup-gets-increased-off-road-performance-and-upgraded-tech
2024 Honda Ridgeline TrailSport arrives with unique design upfront, extra underbody protection, and new wheels featuring General Grabber A/T Sport tires.
05:40 Toyota Tacoma
toyota.com/tacoma
Introducing the 2024 model, Toyota's popular mid-size vehicle is set to strengthen its dominant position in the US market. This latest iteration is built upon the TNGA-F architecture, previously featured in the revamped Tundra and Sequoia models.
07:31 Isuzu D-Max
isuzu.co.jp/world/newsroom/details/20231006_1.html
2024 Isuzu D-Max brings facelifted exterior styling, new body colors, and an improved cabin tech, represented by a 9inch infotainment with full wireless smartphone compatibility.
08:58 Toyota Land Cruiser 70 Series
toyota.com.au/landcruiser-70
The Land Cruiser's 70 series, a timeless pickup initially launched in 1984, is now exclusively offered in specific Oceania markets, catering to those who appreciate robust and easily maintainable utility vehicles. Toyota is set to update this truck in 2024, maintaining its availability in diverse setups such as the LC79 single-cab, LC79 double cab, LC78 Troop Carrier, and LC76 Wagon models.
10:41 Nissan Frontier Hardbody Edition
nissanusa.com/vehicles/trucks/frontier/hardbody-edition.html
Initially introduced as a concept vehicle by Nissan, the Frontier Hardbody Edition has transitioned into the production roster, available as a $4,000 add-on package for the SV Crew Cab 4×4 trim. Inspired by the 1980s Nissan Hardbody truck, celebrated for its dual-wall bed design, commanding presence, and impressive off-road performance, the new Frontier pays homage to these features.
12:12 Toyota Hilux
newsroom.toyota.eu/new-gr-sport-ii-elevates-hilux-to-new-heights/
The 2024 Toyota Hilux is presented without any major upgrades but with an enhanced GR Sport II model that will arrive to the dealerships in mid 2024.
13:54 Mazda BT-50
mazda.com.au/mazda-news/bt-50-thunder-sp-pro-accessory-packs/
2024 Mazda BT-50 arrives mostly the same, but some markets gets 2 new accessory packs, SP Pro and Thunder Pro.
15:41 Nissan Titan and Titan XD
nissanusa.com/vehicles/trucks/titan.html
Regrettably, despite facing a decline in sales, the second generation of Nissan's full-size pickup, along with its heavy-duty XD version, retains the same form introduced back in 2015, the former though does offer a new Bronze edition package.

source