The Nokia 6 (2018) has been announced at Mobile World Congress boasting a 5.5-inch Full HD IPS display, up to 64GB storage and 4GB RAM and a … source
Read more »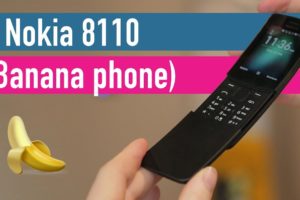 The Nokia 8810 4G has just been announced at Mobile World Congress 2018. Bringing back classics has become a speciality of Nokia after the success of the … source
Read more »
Nokia has just announced the new Nokia 8 Sirocco at MWC 2018, a flagship smartphone that packs a huge battery, an 18:9 pOLED display and a new, dual … source
Read more »
The small but mighty has returned at MWC 2018 – its the Xperia XZ1 Compact and we've gone hands-on ahead of our full review. This phone packs a Qualcomm … source
Read more »
The Nokia 1 has been announced at MWC 2018 running Android Go, the lightweight version of Google's mobile operating system. costing around $80, it lowers … source
Read more »
We get our hands on the Alcatel 5, the most premium of 5 smartphones announced by Alcatel at MWC 2018. While the specs are premium, the cost is affordable … source
Read more »
Nokia has just announced the new Nokia 8 Sirocco at MWC 2018, a flagship smartphone that packs a huge battery, an 18:9 pOLED display and a new, dual … source
Read more »
We get our hands on the Samsung Galaxy S9 Plus at MWC 2018, a smartphone complete with a new camera tech, packing variable apertures, not to mention stereo speakers and an speedy...
Read more »
The Sony Xperia XZ1 has just been unveiled at MWC 2018 and we one in our hands – what do we think? It's excellent Sony had gone 18:9 with its screens. The...
Read more »
The Nokia 6 (2018) has been announced at Mobile World Congress boasting a 5.5-inch Full HD IPS display, up to 64GB storage and 4GB RAM and a 16-megapixel rear camera. This thing...
Read more »