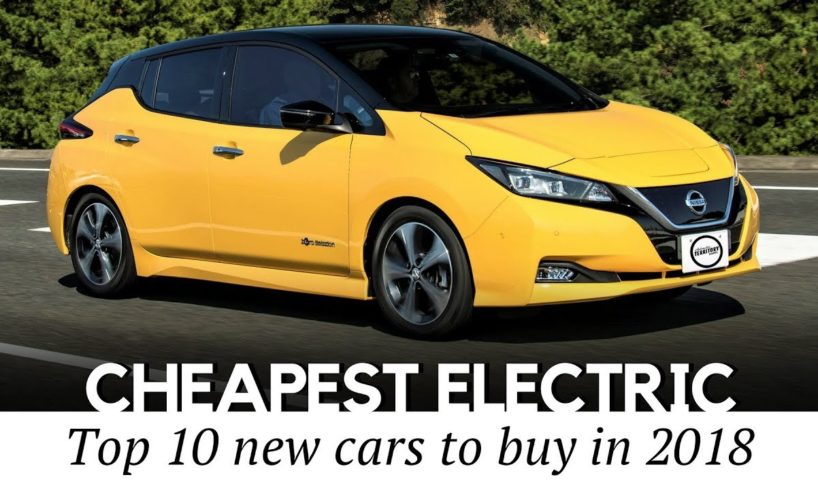 The year is now gone and it is time for an updated episode of Automotive territory with the list of the most affordable electric cars that you can buy in 2018. Probably, to the surprise of many viewers, Tesla Model 3 won't be featured in this video.
It does have great performance specifications, but believe it or not, still remains a quite expensive car with $35,000 on the price tag. Moreover, we didn't want to include pre-order vehicles to this list, because if you were to order a Model 3 today, best case scenario you would get one in a year or two, the waiting line is just too long and production schedule is experiencing constant delays.
So if you are shopping for an electric car in 2018, this will be your ultimate guide to learn about the reasonably priced buying options, but make sure to do some additional research on your own before making a purchase.
Cars featured in this video:
Electra Meccanica Solo: electrameccanica.com
Nowadays most urban residents drive to work by themselves. With this fact in mind, the engineers at Electra Meccanica created the Solo – the ultimate electric city car just for one passenger.
E-go Life: e-go-mobile.com/de/modelle/e.go-life
One of the most recent newcomers among small all-electric four wheelers is E-go Life. This car can accommodate two passengers, but weighs only 1800 pounds.
Renault Zoe renault.co.uk
Another car manufacturer that is rocking on the Electric cars market is Renault. Their Zoe is currently the best-selling all-electric car in Europe with the current affordable price of 19,230 dollars for the base model with signing up for the battery lease for $70 a month.
Smart Fortwo ED: smartusa.com/models/electric-pure-coupe
If you consider all of the incentives that Smart Fortwo ED qualifies for as an all-electric vehicle, you will be impressed by the rather low price of just $18,000..
Nissan Leaf 2.0: nissanusa.com/electric-cars/2018-leaf
The long awaited second generation Nissan Leaf that went on sale in January 2018 looks totally reinvented. It is somewhat bigger than the predecessor, has design features of a hot hatchback.
Ford Focus Electric: ford.com/cars/focus/models/focus-electric
The electrified Focus hardly differs from its gasoline counterpart, except for the powertrain that could make you miss the exhaust sounds and somewhat smaller cargo space that is being taken up by the 33.5 kWh battery.
Hyundai Ioniq: hyundaiusa.com/ioniq
One of the best selling all-electric cars, Hyundai Ioniq remains to be a bargain this year. With a moderate price tag, good driving range and acceleration this South Korean vehicle should be definitely considered.
Nissan Combi E-NV200: nissan.co.uk/vehicles/new-vehicles/e-nv200-combi.html
Nissan Combi E-NV200 utilizes the same technology that is already installed on thousands electric Nissans around the globe which is a 107 horsepower electric motor that is coupled with a 24 kWh battery.
Soul EV: kia.com/us/en/vehicle/soul-ev/2018
The electric version of the Kia Soul looks pretty much identical to the gasoline model, however, unlike other so-called compliance vehicles, it does not lose any space in the cargo bay to accommodate the battery.
Chevrolet Bolt: chevrolet.com/bolt-ev-electric-vehicle
Since Chevrolet Bolt is priced so close to the Model 3 and matches its capabilities, it is the perfect alternative for people who can afford the 37,000 car, but are not ready to be on the waiting list for a Tesla.
Baojun E100: media.gm.com/media/cn/en/baojun/news.html
The joint venture of General Motors, SAIC and Liuzhou Wuling Motors has released to the Chinese market a tiny and very affordable electric car Baojun E100.
Used EVs should be also considered: It has been at least five years since the first mass production electric cars from Tesla, Nissan, BMW, Ford and Chevrolet were introduced, so the auto market is now full of used offerings in good condition.

source