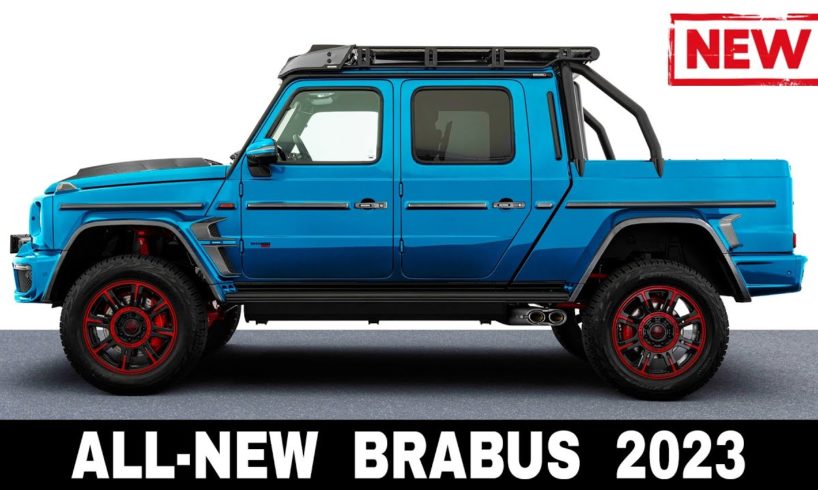 It wasn't so long ago that we featured an all-new 2022 Lineup by Brabus. But suffice it to say, this German tuner is relentlessly ramping up production, so we have already got an even fresher selection of newcomers that will be arriving in the upcoming model year of 2023. This time is not only about Mercedes cars, we have got for you some Porsche, a Rolls Royce and even a motorcycle.
So subscribe to #AutomotiveTerritoryDailyNews to stay informed about the latest car lineups and lets start the engines!
#1 Brabus XLP 900 "One of Ten": brabus.com/en/cars/supercars/brabus-900-xlp.html
Brabus XLP 900 "One of Ten" is a 10-unit special edition of the XLP G63 truck conversion that is fitted with Brabus Rocket 900 engine upgrade.
#2 Brabus 820 Porsche 911 Turbo S
This is very first VW Group model that was added to the Brabus portfolio beyond the traditional Mercedes makes. Surely, the canvas for optimization was presented in the form of the latest 911 Turbo S in the convertible body style.
#3 Brabus 900 Mercedes-AMG E 63 S: brabus.com/en/cars/supercars/brabus-900-e63.html
The 2022 Mercedes-AMG E 63 S 4Matic gets the company's signature Brabus 900 treatment, that includes a new exterior look, updated chassis, and a 0.5L displacement bump that raised the V8's output to 900 hps.
#4 Brabus 1300 R: brabus.com/en/coops/brabus-1300r.html
Brabus's first attempt at customizing a motorbike brings them together with the Austrian motorcycle manufacturer KTM who lend their supernaked platform 1290 Super Duke Evo. The release of the Brabus 1300 R was limited to 144 units with exclusive color options: 77 in Magma Red and 77 in Signature Black.
#5 Brabus 700 Rolls Royce Ghost: brabus.com/en/cars/supercars/brabus-700-rr.html
The long-wheelbase Rolls Royce Ghost is getting its first Brabus treatment: it means more carbon fiber, tweaked chassis, new wheels, and of course, extra horsepower under the food.
#6 Brabus Crawler: brabus.com/en/cars/supercars/brabus-crawler.html
Brabus Crawler is the 15-unit exclusive dune-buggy from the brand that is based on the G63 SUV with solid rear and independent front portal axles, new bodywork, and a 900-hp engine.
#7 Brabus Porsche Taycan Turbo S
If we were to disregard underpowered Smarts, the BRABUS Porsche Taycan Turbo S is the first all-electric Brabus sports car. Porsche's EV platform has class-leading specification and therefore Taycan's stock dual-motor AWD powertrain remains unaltered.
#8 Brabus 900 Mercedes-Maybach GLS: brabus.com/en/cars/supercars/brabus-900-maybach-gls.html
Brabus 900 Mercedes-Maybach GLS graduated from the class of luxury SUVs to the class of super SUVs with 900 hps under the bonnet.
#9 Brabus 900 Mercedes AMG G63 Superblack: brabus.com/en/cars/supercars/brabus-900-superblack.html
Brabus 900 Mercedes AMG G63 Superblack is a part of the Brabus Monochrome Design Series and it is propelled by the company's most powerful, 4.5L twin-turbo V8 engine kit.

source