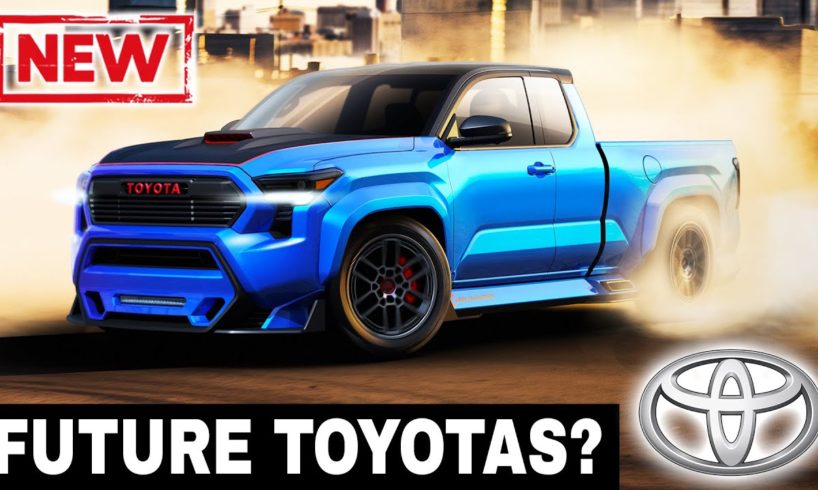 10 Most Anticipated Toyota Cars and Crossovers:
NEW Toyota Pickup Trucks and SUVs: https://www.youtube.com/watch?v=uQgOz5V82Qc&ab_channel=AutomotiveTerritory%3ADailyNews
I wouldn't say that Toyotas are particularly boring, but every time a new car comes out people are left wanting for more innovation. Well, today we have a treat for you, lets take a look at the most radical concepts and prototypes of the world's favorite car brand. Trust us, beyond Toyota's horizon there are good looking designs, revolutionary engineering ideas and advanced technology.
Subscribe to Automotive Territory Daily News and lets start the engines!
Toyota Tacoma X-Runner: pressroom.toyota.com/toyotas-tacoma-x-runner-concept-envisions-a-sport-truck-resurgence
This concept vehicle honors the 2005 Tacoma X-Runner, a groundbreaking move at the time when Toyota introduced a mid-sized pickup with a factory-made street-oriented appearance. Staying true to the original concept, the new X-Runner features numerous custom body panels at both the front and rear.
Toyota FT-Se: global.toyota/en/newsroom/corporate/39886279.html
The Supra and GR86 models are beginning to experience a sense of uncertainty, as the Gazoo Racing Design Group shifts its focus toward developing a replacement sports car powered by electricity. This Toyota FT Se forthcoming coupe might become available sometime after 2026 and will be constructed upon Toyota's state-of-the-art modular platform, featuring advanced third-generation battery technology with high energy density.
Toyota "FJ Bruiser": pressroom.toyota.com/reanimating-a-classic-fj-land-cruiser-into-a-boulder-crushing-bruiser
To enhance the excitement surrounding the highly awaited return of the Land Cruiser to the U.S. market in 2024, the renowned Japanese automaker introduced an exceptionally impressive concept. Drawing inspiration from the 1966 FJ45 pickup truck, the Bruiser is built on a complete tubular chassis, supported by a comprehensive trailing arm suspension system equipped with Fox shocks and Eibach springs.
Lexus LF-ZC and LF-ZL: newsroom.lexus.eu/lexus-unveils-next-generation-battery-electric-concepts-and-vision-for-the-future-of-mobility-at-the-japan-mobility-show
Lexus's existing electric vehicle lineup falls short of expectations. For instance, when the air conditioning is in use, the latest RZ 450e SUV can only travel 150 miles on a single charge, which is significantly less compared to other luxury electric vehicles. However, the 2023 Tokyo Autoshow introduced two groundbreaking concepts that are poised to change this narrative. The LF-ZC sedan and LF-ZL SUV will be built on an advanced, dedicated BEV platform for the next generation.
Toyota FT-3e: global.toyota/en/newsroom/corporate/39886279.html
Toyota FT-3e preview a future electric crossover by the company, that adopts some styling choices from the Bz4x, has mid-size dimensions, and, hopefully, improved drivetrain parameters.
Toyota Retro Cruiser: pressroom.toyota.com/a-legendary-land-cruiser-concept-returns-toyotas-booth-at-sema
Toyota Retro Cruiser is a 1999 restomod, that was meticulously restored for the 2023 SEMA to attract buyers' attention to the US return of the Land Cruiser.
Toyota Compact Cruiser EV: mag.toyota.co.uk/toyota-compact-cruiser-concept-what-is-it
The allure of an electric miniature version of the Land Cruiser is too strong for Toyota to resist incorporating it into their forthcoming electric vehicle (EV) range. Crafted by the Toyota Europe Design development center in Nice, France, this Toyota Compact Cruiser EV is an off-road vehicle that features a square-shaped design with numerous sharp and angular elements influenced by the iconic Land Cruiser and the vintage-styled FJ Cruiser.
Toyota Land Cruiser Se and EPU: global.toyota/en/newsroom/corporate/39937374.html
The Land Cruiser Se is an all-electric 7-seater SUV that exhibits angular exterior with an elongated hood, a gently sloping windshield, and a rounded rear section featuring taillights designed in a visor style.

source