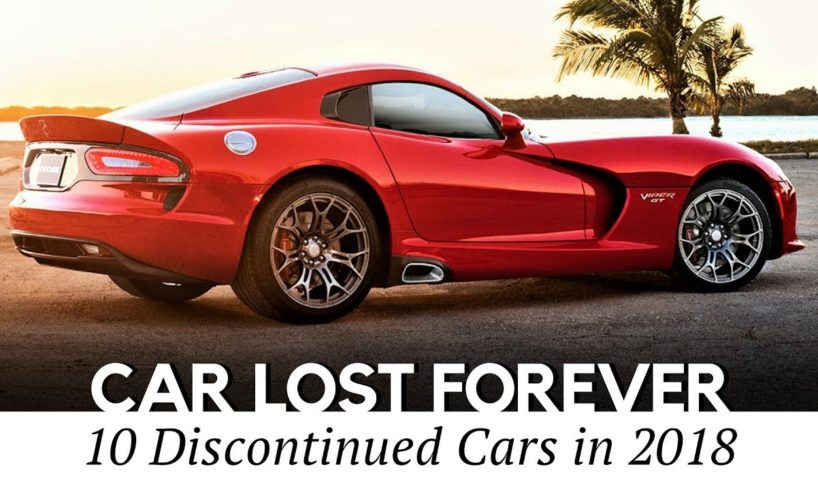 Every year automakers adjust their lineups and discontinue some of the cars in order to free up manufacturing lines for more popular products or cut out non-profitable models. This year we are losing some of the autos that were never successful with the buyers together with some well-known names that will be dearly missed.
The noticeable trend is that with low gasoline prices compact cars and sedans are falling out of fashion, while SUVs and crossovers are stepping in to take their place. In this episode we will show you the latest departures from the automotive market that have chances to never come back or just take a break for now until better times.
Cars featured in this video:
Dodge Viper: dodge.com/viper.html
Without any doubt, this is the most heartbreaking departure of this year and it is the biggest name on our list. The Viper has been with us since 1992 and back in the day it was the car that made Chrysler a fortune.
Chevy SS: chevrolet.com/ss-sports-sedan
Chevrolet SS has been manufactured by the GM subsidiary Holden since 2014 in Australia. It is a big and powerful performance sedan that by some car fans was considered a muscle car.
Mitsubishi i-MiEV: mitsubishi-motors.com/en/showroom/i-miev
Even though all-electric cars were introduced to the world not that long ago Mitsubishi is already canceling one of its models.
Jeep Patriot www.jeep.com/
Jeep Patriot is a small-size boxy-looking crossover-SUV that remained with us for 10 years from 2007 to 2017 and is now being discontinued to make more room on the market for its brother, Jeep Compass.
Volkswagen CC: www.vw.com/models/cc/
Volkswagen CC is a four-door coupe valued by many for it European styling and elegant design that is being left behind in 2018 due to its poor performance in the US and worldwide.
Volkswagen Touareg: www.vw.com/models/touareg/
Another Volkswagen car discontinues in the US is Touareg, a 5-seater luxury crossover SUV, that is being replaced with VW Altas a bigger family oriented SUV.
Chrysler 200: www.chrysler.com/
Chrysler 200 is a 5 seater sedan, that was first sold in 2011. 2017 became the last year in its short life.
Lexus CT 200h: www.lexus.com/
Released in 2011, Lexus CT 200h, an entry level sporty hatchback with a hybrid powertrain, lost its popularity in the US as the cost of gas. Today, as the model is not being dropped altogether but will no longer be available in the States.
Mitsubishi Lancer: mitsubishi-motors.com/en/showroom/lancer/
Even though the segment of compact cars is rather crowded, Mitsubishi Lancer used to stand out from the crowd due to Evolution appearances at the Fast and Furious movie Franchise and Need for Speed game series.
VW Scirocco: volkswagen.co.uk/new/scirocco-gp
The first generation of Scirocco was introduced back in 1974, and even though it had fairly good sales the first discontinuation occurred in the late 80s, with the successor model Corrado. But in 2008, for the reasons unknown the German manufacturer resurrected the sporty coupe
Audi A3 3-door Hatchback: audi.com/en/models/a3.html
The fourth generation of Audi A3 is scheduled for the 2019, but until that year comes the manufacturer has chosen to narrow down the available body options.
Smart Fortwo: smart.com/en/en/index.html
If you are a fan of Smart Fortwo don't stress out yet, Daimler's tiniest automobile on the market is here to stay, but it will drop its gasoline powered coupe and convertible versions in the US and will become all-electric.

source