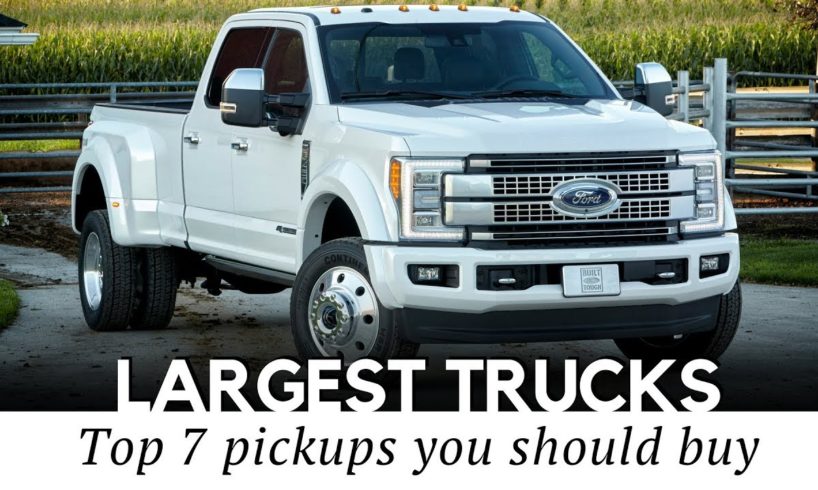 While light duty pickups have gradually gained the status of daily drivers which are rarely put to work, it is full-size trucks designed for heavy duty that remain the hardest workers in the field and on the highway.
Our lineup today will consist of the biggest and most powerful pickup trucks from classes 3 and 4 that were engineered for the toughest of tasks like carrying payloads up to 7,000 lbs. and towing enormous trailers and yachts over 30,000 lbs. But, even if you do not need such a beastly worker in your stables, you might still want to stick around to learn what a true truck should look like!
Pickup trucks featured in this video:
Ford Super Duty F-250: ford.com/trucks/super-duty/models/f250-xlt/
If there is any pickup that you want to have on your work crew it is someone from the Ford's Superduty model lineup.
Ford Super Duty F-450: ford.com/trucks/super-duty/models/f450-xl
The amazing F-450 Superduty in the Limited trim is the pinnacle of a pickup truck offered by Ford that builds up on everything that previous models have to offer.
Chevrolet Silverado 2500HD: chevrolet.com/trucks/silverado-2500hd-3500hd-heavy-duty-trucks
Year after year Silverado HD offers capability along with dependability and durability. While the car is offered in 4 trims WT, LT, LTZ and High Country starting from $34,400, the most reasonable and practical option would be LT trim paired with the crew cab and standard box.
Chevrolet Silverado 3500HD: chevrolet.com/trucks/silverado-2500hd-3500hd-heavy-duty-trucks
If you want to get the top notch heavy duty truck from Chevrolet look no further but Silverado HD in High Country trim with dual rear wheels.
GMC Sierra 2500HD: www.gmc.com/trucks/sierra-heavy-duty-pickup-truck
GMC Sierra 2500HD is mechanically similar to Chevrolet Silverado, but it comes in a prettier more glamorous package. The truck starts from $34,940.
Ram 2500: www.ramtrucks.com/ram-2500.html
Ram 2500 is a powerful and reliable workhorse that can fit any pocket and is up to any task with its three engine options, seven trims, and three cab variants.
Ram 3500: www.ramtrucks.com/ram-3500.html
Despite lacking technological innovations and updates in interior and exterior, this bigger and stronger version of Ram 2500 has enough power and torque to complete even the craziest hauling tasks.
Nissan Titan XD: www.nissanusa.com/vehicles/trucks/titan-xd.html
Nissan Titan XD offers a balance between towing capabilities and everyday needs. It has a well-built gas engine and starts from $32,040.

source