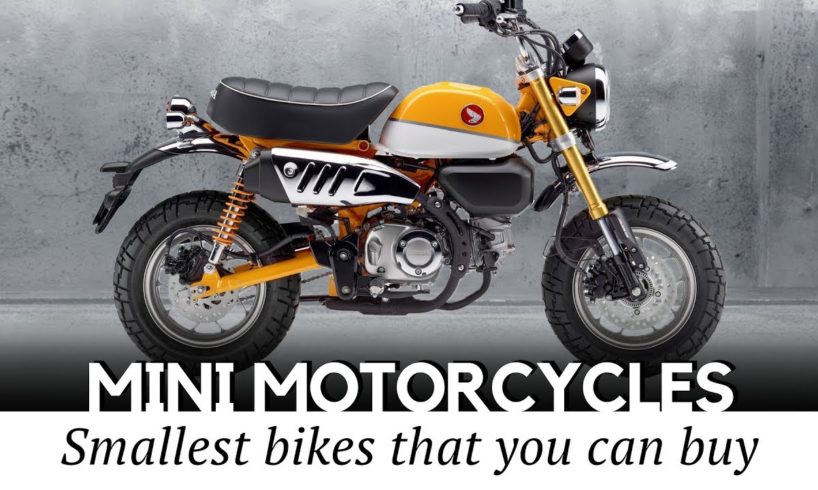 You probably have seen lots of viral videos with people having fun riding absurdly tiny motorcycles that can barely sit a kid. While those remain illegal on the streets and can only serve as a cool item in your man-cave or a toy for children, manufacturers do notice the universal love for small bikes and offer downsized two wheelers in their lineups. In this episode we will be showing the smallest production motorcycles of today that you can actually buy.
These models are super friendly to new riders and people on a tight budget, since the prices don't ever go over…, plus they can bring lots of fun to the more seasoned motorcycling enthusiasts, offering incredible agility and lively demeanor.
Other videos for those interested in this topic:
10 Best Cruiser Motorcycles for Different Riders: https://www.youtube.com/watch?v=bmmuFeXT6lU
10 Cheapest Electric Motorcycles on Sale: https://www.youtube.com/watch?v=gjysvBCkYbI
Motorcycles featured in this video:
Honda Monkey: hondanews.eu/eu/en/motorcycles/media/pressreleases/129308/2018-honda-monkey
The iconic Honda Monkey first saw the world in 1969 as a 49 cc child's plaything for an amusement park in Tokyo. However, it has proven to be so popular that the groovy road legal version was released and exported to the US and Europe.
Zero FXS: zeromotorcycles.com/zero-fxs
Zero FXS is an affordable bike model from Zero for city driving, local off-roading and day-track, that is a combination of speed and all-terrain agility.
Exo: exo-bikes.eu/purchase
Exo was manufactured in Estonia and is a versatile electric two-wheeler with affordable price and acceptable technical specifications.
Honda MSX 125: powersports.honda.com/2018/grom/options.aspx
The Honda Grom is among the best known and loved 125 cc displacement motorcycles on the market, due to its pocket size, affordable pricing and reliability.
Benelli Tornado Naked T 125: presskit.benelli.com/presskit/tornadoNakedT125_eng.html
Benelli motorcycles is one of the oldest Italian manufacturers established all the way in 1911. Their single cylinder, 4 stroke, air cooled 125cc Tornado Naked T 125 offers maximum fuel efficiency in all driving conditions.
Venom X21R 125: venommotorsportsusa.com/products/2017-venom-x21-motorcycle-125cc?variant=33868059149
Venom x21R is a 125cc mini bike with a very attractive price tag of $1,500, developed by Venom Motorsports which specializes in manufacturing and retail of limited edition pocket bikes, ATVs, dirt bikes and compact motorcycles.
Kawasaki Z125 PRO: www.kawasaki.com/products/2018-Z125-PRO
Kawasaki Z125 PRO is lively city commuter with a 125 cc inline-1, a 2-gal fuel tank, and a LCD dashboard. With the price of $3,199, it is one of the cheapest small bikes on the market.
KTM 125 Duke: www.ktm.com/naked/125-duke/
KTM 125 Duke is a well-equipped small motorcycle with 15hp engine, ABS system, TFT dash, and optional smartphone connectivity. At $5,500, it is priced higher than competitors.
Honda Motocompo: apps.mobilityland.co.jp/hch/search/english/products/418
Dax Honda ST50: apps.mobilityland.co.jp/hch/search/english/products/357
One more option that people looking for a tiny motorcycle have, is to go back in time and purchase one of the downsized mini-motorcycles of the past which used to be among the best sellers on the market. Among such models we can point out retro Hondas like 1969 ST50 or Motocompo from 1982.
KYMCO SPADE 150: kymcousa.com/showroom/spade-150
In order to get ahead of the competition which includes louder names like Honda and Kawasaki, Kymco decided to give its mini bike a slightly bigger 149.4 cc 4-stroke single cyl engine with 12.5 horsepower and 8 lb-ft of torque.
OSET MX-10: osetbikes.com/gb/bikes/oset-mx-10
One more class in the world of minibikes is those motorized two wheelers designed specifically for kids to learn how to operate such a vehicle. Manufacturers like Yamaha, KTM and Honda offer downsized versions of their production bikes for the very little, however we wanted to review one more less known option from the British manufacturer Oset MX-10.

source