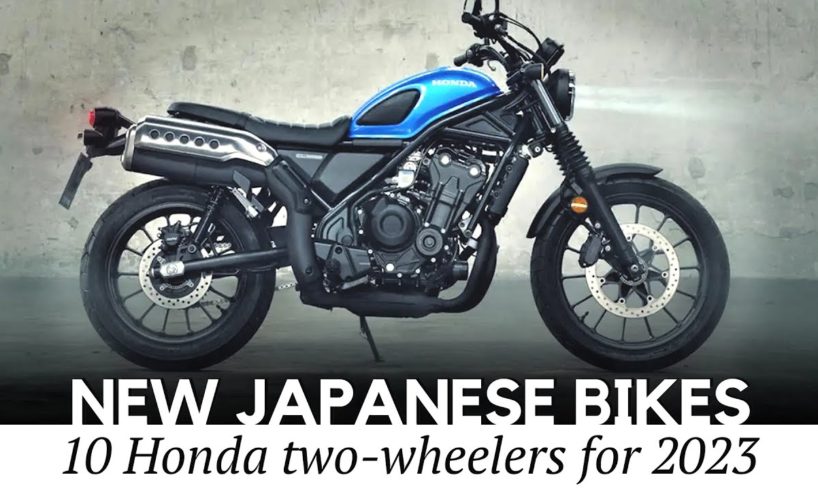 Honda is the unrivaled titan of motorbike production and a trendsetter for the entire industry of two-wheelers. Therefore, any self-respecting motorcycle enthusiast must be in the know about new models and innovations offered by this Japanese manufacturer. Today we are happy to introduce to you a lineup of the freshest 2023 motorcycles and scooters from Honda. Katana sharp bodywork, upgraded engines and reliable equipment that won't bankrupt the average consumer, this is what the upcoming Honda bikes are all about.
More videos from #AutomotiveTerritory you may be interested in:
Latest bikes from the cruiser class in 2023: https://www.youtube.com/watch?v=LLLtf5X6TfY
Italian motorcycles by the Ducati brand: https://www.youtube.com/watch?v=t3Qutxiaa8M
Detailed information about models from this #ATmotorcycles video:
00:00 Introduction
00:50 Honda Rebel CMX1100T
hondanews.eu/eu/en/motorcycles/media/pressreleases/421078/23ym-cmx1100-rebel
​Honda Rebel CMX1100T is ready for long distance riding, with a newly-added aerodynamic half fairing and a set of hard panniers offering 35 liters of storage.
02:01 Honda XL750 Transalp
hondanews.eu/eu/en/motorcycles/media/pressreleases/421070/23ym-honda-xl750-transalp
​HONDA XL750 arrives as an all-new, 2023 model powered by a 755cc Parallel-Twin with 270-degree crankshaft.
03:06 Honda CB750 Hornet
hondanews.eu/eu/en/motorcycles/media/pressreleases/415508/23ym-honda-cb750-hornet-47
​Honda CB750 Hornet is one of the cheapest middle-weight nakeds on the market, that benefits from the brand's new 755cc parallel-twin engine with 90 horses.
04:00 Honda Forza 125 and 350
hondanews.eu/eu/en/motorcycles/media/pressreleases/421428/23ym-honda-forza-350
This year, the lower displacement models from Honda's premium line of scooters are brought to the same level of styling refinement as the range-topping Forza 750. The standard kit of equipment for the Forza 125 and 350 includes an electronically adjustable screen, smart key operation, USB-C socket, Traction control, and storage space for two full-faced helmets.
05:30 Honda CL500
​hondanews.eu/eu/lv/cars/media/pressreleases/421074/23ym-honda-cl500
Honda CL500 builds on the same platform as the Rebel 500 and gets a 471-cc parallel-twin engine with 46 horsepower.
06:40 Honda CRF 450 R
hondanews.eu/eu/lv/cars/media/pressreleases/369968/2023-honda-crf450r-9
2023 marks the fiftieth anniversary since the debut of Honda's first "built from scratch" competition dirt bike CR 250 M Elsinore. This retro bike is being commemorated with a limited edition of the CRF 450 R.
07:43 Honda EM1e
hondanews.eu/eu/en/motorcycles/models/em1-e
The EM1e is Honda's first electric scooter with Europe as the target market This is a youth-oriented model with a sleek design and short daily range of 25 miles.
08:38 HONDA CRF300L
​hondanews.eu/eu/en/motorcycles/media/pressreleases/430364/23ym-honda-crf300l-8
The 2023 HONDA CRF300L carries over unchanged in all major respects, but adds a new paint scheme and standard knuckle guards.
09:42 Honda Dax 125
honda.co.uk/motorcycles/range/125cc/dax125/overview.html
2023 Honda Dax 125 returns to the market as a 1970s-inspired mini bike, that retains the aesthetics of its predecessors, but is absolutely modern in all other respects.
10:49 Honda Cub e:, Dax e:, Zoomer e:
eglobal.honda/newsroom/news/2023/c230110eng.html
By 2024 Honda plans to introduce five compact affordable electric motorcycles across Asia, Europe and Japan. The first three models are going after the Gen Z consumers, who value smart gadgets and like expressing themselves via their vehicles.

source