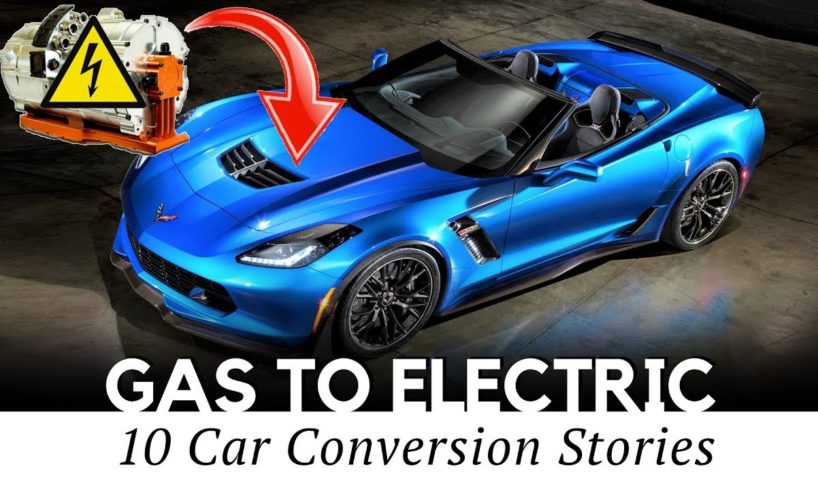 What do you think is the best way to upgrade an already great car? Add spoilers and lower the suspension? Maybe throw in new tech and re-do the trimming? No, in our days the ultimate way to pimp a ride is to replace its engine with an electric motor! What can you get from this modification?
First of all, that incredible feeling of quick acceleration from instant torque, silent cabin, low maintenance, no need for gasoline, and lastly access to the inner cities with restrictions for ICE cars. In this episode we will show you the top 10 most interesting engine swaps, that reimagined already great cars and turned them into all-electric marvels of modern automaking.
Cars featured in this video:
Kreisel Hammer: kreiselelectric.com/en/blog/kreisel-electric-and-arnold-schwarzenegger-present-the-worlds-first-electrified-hummer-h1
Kreisel Hammer is the only off-road electric vehicle developed on the basis of Hammer H1. It is a prototype that will be not mass produced and will be build demand.
Kreisel Gwagen: kreiselelectric.com/en/projects/electric-g-class/
Externally the electric G-class from Kreisel differs only in detail and on the inside you will be getting the same level of luxury and comfort.
1960 VW Beatle by Zelectric: zelectricmotors.com
While Zelectric has a lot of cars in their lineup of electrified vehicles, their specialty is VW Beetles of 1958-1967 model years.
Jeep Wrangler Electric: cad4x.kaist.ac.kr
Jeep JK Wrangler Electric is a completely electric ATV developed by the Korean Advanced Institute of Science and Technology.
BMW EV West: evwest.com/catalog/press.php
EV West is the US based company that specializes in retail of electric car parts, components, conversion kits, and charging station solutions for your Electric Vehicle or EV Conversion.
Zombie 222: bloodshedmotors.com
Zombie 222, is the pinnacle of Bloodshed Motors mechanical genius and it is a modified 1968 Mustang Fastback.
Kreisel Evex 910E: kreiselelectric.com/en/projects/kreisel-evex-910e
Kreisel Electric is the Austrian company that specializes in e-mobility, battery technology and electric powertrains. One of their most valued prototypes is Kreisel Evex 910E, which is a converted 1960 Porshe 910.
Jaguar E-Type Zero: media.jaguar.com/en-us/news/2017/09/electric-jaguar-e-type-zero-debuts-jaguar-land-rover-tech-fest
Jaguar came up with a reminiscently designed E-type Zero, probably attempting to hook old timers and make them want to own an electric classic. This Jaguar is a reconfigured E-type Series 1.5 sports roadster of the 1968 model year
Genovation GXE: genovationcars.com
When designing the Genovation, engineers were tasked to change perception of EVs. We cannot but agree that they have already succeeded with that task.
Zelectric's all-electric Porsche 911 Targa: zelectricmotors.com
Just like with all of their builds, Zelectric is trying to avoid making any modifications to the cars they are remodeling, so this beautiful 1973 Porsche 911 Targa remains as vintage as they come.

source