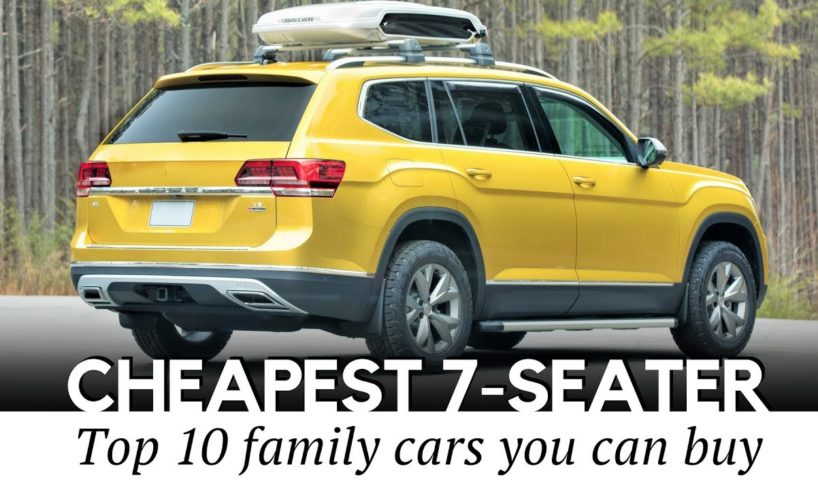 At some point of your life comes a moment when your family simply cannot fit into a regular SUV, so you do what you've got to do, and that is buy a 3-row 7-seater. Probably this won't come as a surprise, but these people haulers have one major disadvantage, the prices are hardly affordable.
So to help you out in this unforgiving process of shopping for a new car, we gathered a list of the cheapest 7-seater SUV models that are available on the market today. Though roomy, safe and powerful they still remain within the reasonable price segment!
Cars featured in this video:
Dodge Journey: dodge.com/journey.html
The most attractive feature of this Dodge is no doubt the pricing. There is literally no other vehicle on the market that can offer three rows of seating along with a price tag of just $22,795 for the basic trim.
Mitsubishi Outlander: mitsubishicars.com/outlander/2018
In 2018 Mitsubishi Outlander is offered in five trims ES, SE, LE, SEL, and the top gun GT.
Kia Sorento: kiamedia.com/us/en/models/sorento/2019
Since the major redesign for Kia Sorento took place not so long ago, for the 2019 it has gone through a minor facelift.
Hyundai Santa Fe XL: hyundaiusa.com/santa-fe/index.aspx
Though the imminent redesign of Santa Fe 7-seater will take place in 2019, it is still worth considering the outgoing model, due to the currently discounted price of $27,850, great safety ratings and rich package of standard features, typical for Korean manufacturers.
Chevrolet Traverse: chevrolet.com/suvs/traverse-mid-size-suv
The Chevrolet Traverse is among the few 7-seaters fully updated for the 2018 model year giving it an edge over the aging competitors.
GMC Acadia: gmc.com/suvs/acadia-mid-size-suv
Though many people would argue that GMC Acadia is just a rebadged Chevrolet Traverse, this is a bit unfair towards the two models. They differ quite a lot and offer independent pakcages worth consideration.
Volkswagen Atlas: vw.com/models/atlas
For those of you who are searching for some fresh blood on the 7-seater market, the recently arrived Volkswagen Atlas with its premium feel should definitely been considered.
Honda Pilot: automobiles.honda.com/pilot
Honda Pilot is a rather common choice among three row SUVs on today's market that delivers proven performance, competitive roominess and high safety scores.
Nissan Pathfinder: www.nissanusa.com/vehicles/crossovers-suvs/pathfinder.html
Nissan Pathfinder is a decently equipped family SUV priced from $31,040 that offers good value for the money.
Toyota Highlander: toyota.com/highlander
What draws buyers to Toyota Highlander 7-seater SUV is its constant high safety ratings, family-friendly nature, consistently high reliability and resale value that will prevent you from burning money in the future.
Ford Explorer: ford.com/suvs/explorer
Explorer is one of the best-selling large cars in America that features good fuel efficiency, comfortable seating for 7 passengers and lots of room for your cargo.
Subaru Ascent: subaru.com/ascent
The recently arriving Subaru Accent could get the title of the American dream car, for being rather affordable and offering one of the richest packages.

source