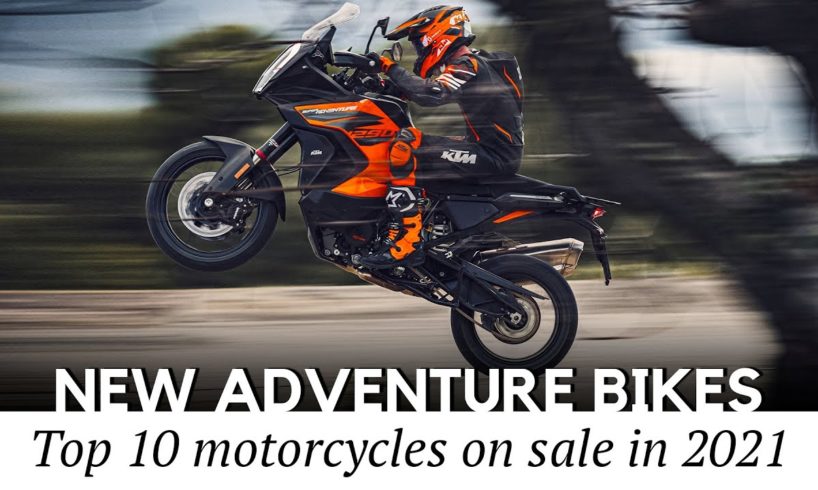 It is obvious that the class of adventure tourers is one the rise, since even the most conservative manufacturers are carefully eyeing this segment for the market expansion. After all, these motorcycle alter egos of off-road pickup trucks can fill the rider's routine with a whole new dimension of excitement on two wheels. Today, we are taking a closer look at the newest adventure tourers of 2021 that are making the market assault across all displacements and sizes.
All motorcycling fans out there could also check previous #AutomotiveTerritory videos:
Latest bikes produced by Austrian manufacturers: https://www.youtube.com/watch?v=o9UR_wb_v1A
New superbike models you have to check out: https://www.youtube.com/watch?v=E_BUM-DFFGA
List of all models that made it to this release of the #ATmotorcycles series:
KTM 1290 Super Adventure S: ktm.com/en-tw/1290-super-adventure.html
Arguably, this is the most compelling long-distance adventure bike of 2021. With a complete chassis overhaul, this 1290 boasts improved weight distribution and ergonomics.
KTM 890 Adventure R Rally: ktm.com/en-int/models/travel/ktm-890-adventurerrally2021.html
The exclusive R Rally edition borrows the 890 Adventure R platform, but packs it with a host of premium upgrades found in KTM PowerParts catalog.
Husqvarna Norden 901: press.husqvarna-motorcycles.com/news-husqvarna-motorcycles-to-launch-first-travel-motorcycle-?id=97424&menueid=19202&l=international&tab=1
Revealed as a concept bike back in 2019, the Husqvarna Norden 901 will be finally going into production by the end of 2021. The model is likely to share its platform with KTM Adventure 890, which means the 889.5cc parallel twin with 105 hps.
KTM 250 Adventure: ktm.com/en-int/models/travel/ktm-250-adventure2021.html
The smallest model of the KTM Adventure family was revealed back in 2019 as an Asia-bound model, but at time, it got overshadowed by the new 390 bike from the same series. Now, the 250 is going on sale in the UK and some countries of the Eastern Europe.
BMW R 1250 GS and R 1250 GS Adventure 2021: press.bmwgroup.com/global/article/detail/T0317720EN/the-new-bmw-r-1250-gs-and-r-1250-gs-adventure
The celebration of the 40th anniversary of the BMW GS is commemorated with the most capable version of the Adventure tourer so far. The 2021 model enhances its capabilities with Led headlights and a selection of standard tech.
BMW F 750 GS, BMW F 850 GS and BMW F 850 GS Adventure: press.bmwgroup.com/global/article/detail/T0311347EN/bmw-motorrad-presents-the-new-bmw-f-750-gs-bmw-f-850-gs-and-bmw-f-850-gs-adventure
BMW celebrates 40 years of the GS moniker by refreshing the entire range, including the F 750 GS, BMW F 850 GS and BMW F 850 GS Adventure models. All three gain minor styling tweaks, new equipment, and special editions, dedicated to the anniversary.
Harley Davidson Pan America: harley-davidson.com/us/en/products/bikes/future-vehicles/pan-america.html
After the abrupt cancellation of the Bronx and a change within the Harley Davidson management, the fate of the Pan America was hanging on a thread. However, it appears that Harley will dive into the uncharted waters of adventure bikes after all.
Honda CRF1100L Africa Twin + Tri-Color Scheme: hondanews.eu/eu/en/motorcycles/models/africa-twin
Fully redesigned in 2020, the adventure-focused Honda Africa Twin entered the 1,100cc category. In 2021, it debuts with a new Pearl Glare White Tricolor paint scheme, was previously only available on the more high-end Adventure Sports version.
Yamaha Tenere 700 Rally Edition: yamaha-motor.eu/gb/en/products/motorcycles/adventure/t-n-r-700-rally-edition-2020/
and 50-pound feet as the stock model, but sounds differently, thanks to the Akrapovic slip-on muffler.
The release of the mid-weight Tenere, was a breath of fresh air for the segment an instant success story that Yamaha. In 2021, the Japanese want to build upon this triumph by releasing the Rally Edition of the model.
Ducati Multistrada V4 and V4 S: ducati.com/ww/en/bikes/multistrada/multistrada-v4
Positioned as a flagship representative of the Multistrada family, Ducati Multistrada V4 sports number of chassis improvements and an all-new 4-cylinder engine, labeled Granturismo. In addition, Ducati launches a more equipped version of the V4, labeled S.
Sinnis T380 Model X: sinnismotorcycles.com/sinnis-terrain-380/
2021 Sinnis T380 Model X boasts impressive exterior look, full chassis guard rails, preload adjustable front and rear suspension, dual-purpose tires, and a solid 380cc parallel twin engine.

source